A splash of Calvados and some Granny Smith apples provide a wonderful balance to this baked pheasant dish.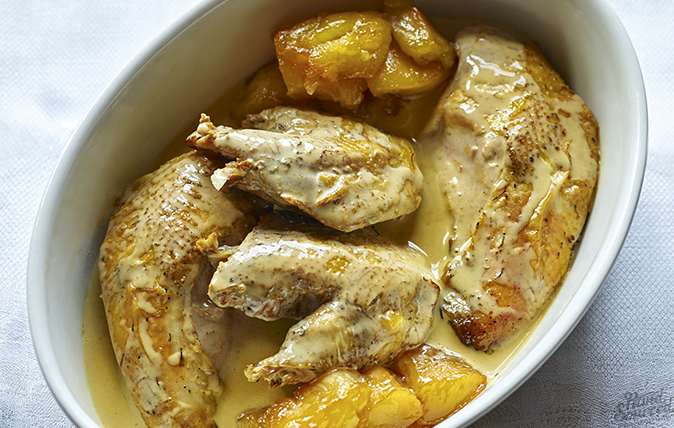 (serves 4)
Ingredients
2 oven-ready pheasants
A little lard (or bacon fat, if you have some)
For the sauce
750ml good cider (not too dry)
1 onion, sliced
1 carrot, sliced
3 sticks celery, sliced
300ml thick cream
For the apples
3 Granny Smith apples, peeled, cored and cut into large dice
25g butter
1tbspn caster sugar
A squeeze of lemon juice
A large splash of Calvados
Method
Preheat the oven to 200°c. Smear the pheasants with lard and season well, place them in a roasting tin and slide them into the oven. After 10 minutes, turn the temperature down to 180° and roast for a further 15 minutes, basting frequently. Remove from the oven, drain off the fat (keep it and use it for roasting potatoes) and leave the birds to cool a little.
Once cool enough to handle, remove the legs simply by pulling them away from the carcase and slice off the breasts using a small, sharp knife, keeping them intact. Arrange the joints of the pheasant in an ovenproof serving dish and put them to one side; the flesh should be very pink. Leave the oven on.
To make the sauce, roughly chop up the pheasant carcases with a sturdy knife, put them in a large pot and add the cider and vegetables; add a little water if the ingredients aren't covered with liquid. Bring up to a boil, skim off any resultant scum with a large spoon, cover and simmer for about an hour.
Next, strain the solids through a colander into a clean pan, and leave to settle for a minute or two. Heat this stock over a medium flame and reduce until syrupy with a rich, golden colour—this will take 20 minutes or so. Pour in the cream, whisk together and carefully bring up to a boil, then simmer for a few minutes.
Strain through a fine sieve over the reserved bird joints, coating them well with the sauce, before returning the sauced pheasant to finish in the oven. Cook for about 20 minutes or until gently bubbling, the sauce having become rich and unctuous.
While the pheasant finishes cooking, melt the butter in a small pan, stir in the apples and sprinkle the sugar and lemon juice over them. Stew gently, stirring occasionally, until soft, but also touched with golden burnishes here and there. Splash with a little Calvados and stir. Remove the pheasant from the oven, garnish with spoonfuls of apples and serve.