Product Details
The Silkie (sometimes spelled Silky) is a breed of chicken originating from China, named for its atypically fluffy plumage said to feel like silk. The breed has several other unusual qualities, such as black skin and bones, blue earlobes, and five toes on each foot (most chickens have four). Their raw flesh is dark beige and internal organs dramatically pitch black. Once the skin is cooked, it turns a deep, glossy, obsidian black.
The Black Namoi has a soft, gentle nature and even temperament, and will often adopt and sit on orphaned eggs from other species (even giant duck eggs).
Meat colour varies within each bird. Typically, expect distinctly darker meat which will turn from soft cream to white when fully cooked. Despite all the black-on-black-on-black, silkies are colorfast and won't produce a black broth, using either water or fat to try to leach the inky pigment from their bones. The skin will be b, sometimes bordering on blue or purple.
The Black Namoi have an elongated body, small head, long legs and disproportionate looking feet with 5 toes. Their outdoor foraging life mean organs, muscles and skeletal system grow in harmony.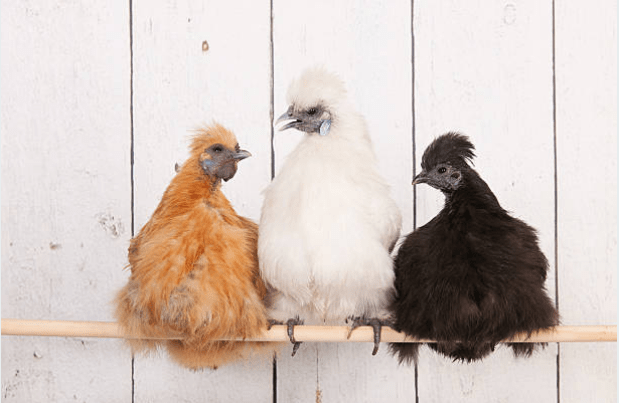 Black Namoi table birds are processed using the superior 'Cold Scald' and 'Air Chill' method. This protects the 'bloom' of the skin. The birds drain before 'air chilling' on racks, allowing the meat to rest before packaging commences. The Black Namoi is the only table Silkie in Australia to be processed in this method, meaning there are NO CHEMICALS involved in the processing of the bird. Compare this to the common process of a hot scald followed by a plunge into heavy chlorinated icy water of up to 150 ppm which is invariably absorbed by the chicken. This causes a 'bleaching effect' removing the skin's natural bloom. The cooked finish is not compromised by the freezing process.
Sizes range between approximately 500g to 1kg.