Get your game on and try one of our Australian Natives in a delicious way.
Our Wallaby comes from Flinders Island, Tasmania; where they roam wild all across the area. Qualified hunters are hired and no stress is caused to the animal. The flavour of the wallaby is quite unique. It lacks the "gamey" taste of kangaroo, and a texture is similar to veal.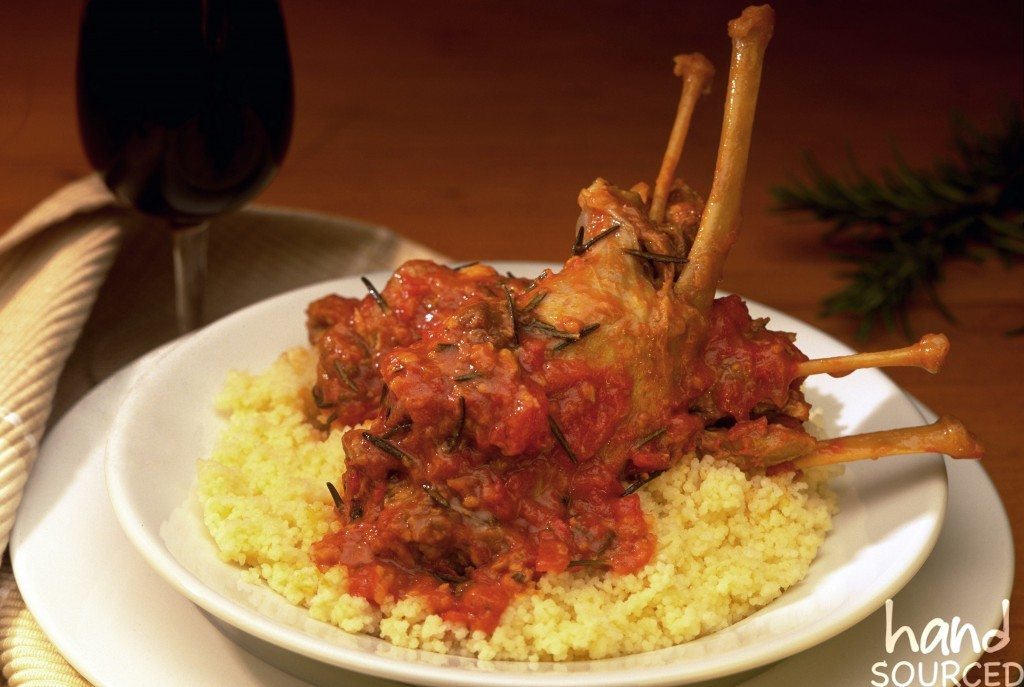 The Soufflé mix is sufficient for 5 x 150ml Soufflé dishes.
Souffle topping is done last and is spooned over tart shell. Bake at 180°C for about 5 minutes, depending on size of tart.
---
Braised Wallaby Shank with Goat Cheese Souffle

Prep: 1 hr

Cooktime: 3 hrs

Serves: 4
Ingredients:
For the Shanks:
4 x wallaby shanks
Sea salt/fresh ground white pepper
1 teaspoon coriander seeds
2 star anise
1 teaspoon fresh rosemary
1 teaspoon fresh oregano
6 garlic cloves
3 cinnamon quills
Skin of 1 orange/1 lemon
60ml balsamic vinegar
170ml dry white wine
1 large carrot (cut into mirepoix)
3 celery sticks (cut into mirepoix)
1 medium onion (cut into mirepoix)
1 leek (cut into mirepoix)
1 litre reduced brown Veal Stock
For the Onion Compote:
100gm butter
100gm Kaiserfleisch or bacon, julienned.
6 onions thinly sliced
50ml honey
50ml sherry vinegar
For the Souffle
60g butter
60g plain flour
350ml warm milk
75gm goats cheese
1 tablespoon grated fresh parmesan
1 tablespoon chopped fresh herbs (parsley, chives, chervil)
3 egg yolk
Salt/pepper
4 egg white
For the Base
200g sweet potato (cut into even large pieces)
pinch sea salt
1 tablespoon olive oil
pinch nutmeg
50g soft butter
For the Sauce Arabica
1 onion finely diced
1 carrot finely diced
1 stick celery finely diced
1 leek finely diced
1.5 litres braising liquor from wallaby
1.5 litres Veal jus
1 bay leaf
2 sprigs Thyme
1 head garlic, halved across
1 cup crushed Arabica coffee beans
juice of 1 lemon
100g butter
Instructions:
Shanks:
In a mortar/pestle crush the sea salt, pepper, coriander seeds, star anise, herbs and 1 clove of garlic.
Rub the mix over the wallaby shanks (after you have removed the small piece of sinew from the meat nearest the bone). Set aside
Heat some olive oil and fry off the mirepoix until lightly browned. Set aside.Seal off the shanks in the same pan, brown on all sides- remove.
Add mirepoix back to pan along with cinnamon quill, orange and lemon skin and remaining garlic cloves.
Brown till quite dark (not burnt) and deglaze with balsamic and white wine, scrape any sediment from the bottom.
Place the vegetable base in the bottom of the braising pan and lay shanks on top. Cover with stock and cook slowly (150 °) for about 3 hours or until tender. When meat is 'falling off the bone' remove and set aside in a cool room until reasonably cold.
Strain the cooking juices, skim and reduce by half. Set aside for sauce.
Onion compote:
Melt butter in honey based saucepan, add bacon and onion and cook, covered, for 5 minutes until onions start to wilt. Remove the lid and reduce to a very low simmer for about 3 hours, stirring regularly to prevent sticking.
Remove from heat, stir in honey and vinegar and season to taste
Souffle:
Melt butter in saucepan and add flour, cook to white roux – cool slightly. Add milk stirring all the while to form a sauce, boil, reduce heat and simmer for 5 minutes.
Mash goat cheese until soft and add to sauce with chopped herbs and Parmesan. Allow to cool slightly. Fold in yolks and check seasoning.
Beat egg whites with a pinch of salt until creamy. Fold quickly into cheese mixture.
Sweet potato:
Roast peeled sweet potato with olive oil and sea salt until nicely coloured and cooked through. Drain oil and puree in food processor with nutmeg and butter. Set aside.
Sauce:
Fry off the vegetables in a little olive oil until dark, add the herbs and garlic.
Pour over the braising liquor and veal jus, bring to boil and simmer for 1 ½ hours. Strain, reduce by half and add coffee beans and infuse 1 hour.
Strain again, add lemon juice and diced 'cold butter' just before serving
Shred wallaby with fingers from bone and mix with a little Sauce Arabica to bind.
In the bottom of 4 cooked shortcrust tart shells place a good spoonful of onion compote, top with wallaby and chill
Make up a soufflé mix and top each tart steel with this, bake 5 minutes.
Place cooked tart on a spoonful of sweet potato mash
Surround with Sauce Arabica, serve at once.
Arabica Sauce recipe will make at least 1 litre of sauce. If you wish to freeze it, leave out the butter until service.

Save