Tommerup Rose Veal is a premium, quality product originating through the desire to respect the lives of male calves born into the family's dairy farming industry. Rose Veal is an ethical, sustainable source of young, premium grade milk fed beef, with a flavour profile that is unsurpassed. Milk fed, hand raised, thoughtfully produced.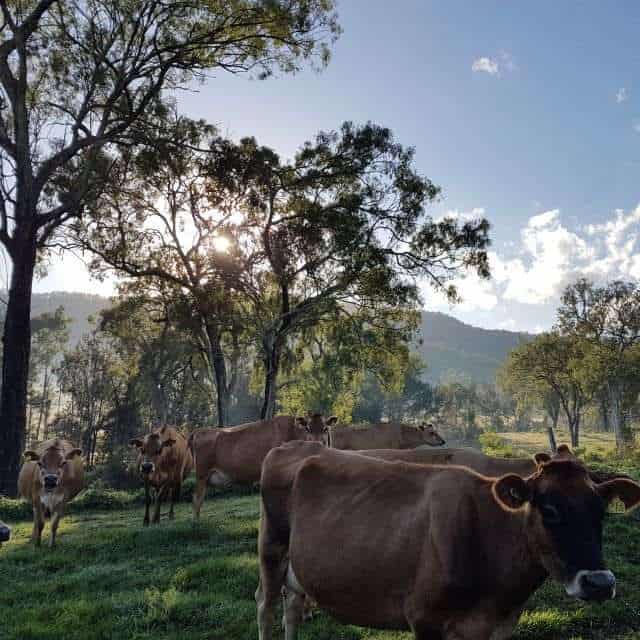 The Tommerup family farm has been in operation since 1874, when Dave Tommerup's great-great grandfather, Mathew Horan, brought his young family to the Kerry Valley and settled, proving his skill as a farmer, butcher, dairy man and bonesetter. Since that time, each subsequent generation has made the farm their own. Today, Dave, his wife Kay, and children Harry and Georgia have taken the farm from a micro dairy (almost certain to be swallowed by the effects of dairy deregulation and $1 per litre milk), to a sustainable agri-tourism enterprise encompassing the history of 5 generations of dairy farming.
The dairy, though fully mechanised, remains true to its humble beginnings as a walk-through bail milking style. Despite its small size, the dairy has remained an integral part of the farming operation and now extends into the commercial meat sector by way of dairy veal.
…"I have a special call and voice tone that I use when I'm teaching the calves to drink from a bottle. For the first few days, while they're drinking their bottle I say a number of times "Come on, come on, come on babies. Come on, come on". They learn that this is the call for bottle time and even when they move into the big open paddocks, they come running as soon as they hear it. If I'm not around to feed the calves, Dave has to mimic my voice to call them for their bottles!
After calving, young vealers stay on their mother's milk fulltime, for the first 2-4 weeks, developing natural antibodies and immunities, and beginning to lay down natural fat stores. As time progresses and mothers return to the dairy milking system, young calves maintain their milk diet with access to both natural mothers milk and bottle feeds, administered by hand from the Tommerup family. Calves are slowly introduced to pasture, their diet supplemented by the Tommerup's selectively sourced blend of legumes, grains and tonics, which support and maintain optimum health. For the duration of their lives, vealers have unlimited access to milk as well as native and improved paddocks where they frolic and graze on green Kerry pastures.

It is this diet, rich in dairy milk combined with pasture, and a healthy, active life that gives Rose Veal it's distinct rosy pink colour and light, delicately buttery taste and melt in the mouth texture.

All calves have a fully free ranging life before being transported in pairs to a local processing for the market at between 5 and 7 months of age. Our vealers are never caged or restricted in their right to life.

The Tommerup family are committed to sustainable, regenerative farming based on old fashioned values combined with the advantages of modern technology. They maintain a low carbon footprint, utilise local regional growers for feed supplementation and animal care, and support local restaurants and agri-tourism communities through animal awareness programs. There are no hormones or antibiotics used on any slaughter animals at any time.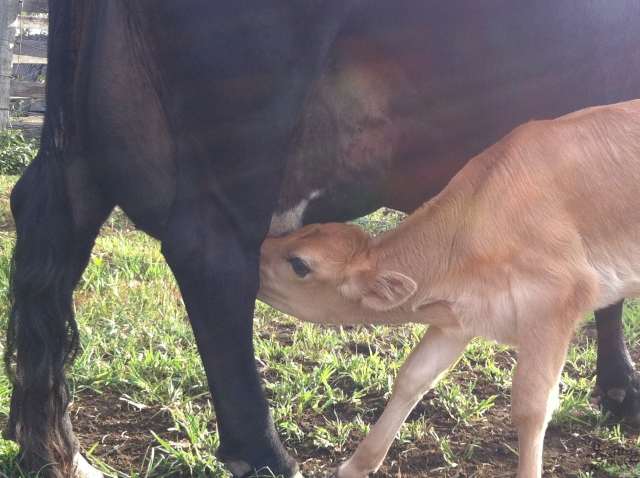 Availability
We are able to provide offal, sweetbread, blood, heart, lung, cheeks, and tail with each carcass, upon request.
Calves will dress between 30-50kg, depending on age and natural weather conditions. Currently processed on a Friday, veal is hung for 48 hours before being transported to Brisbane and should reach your venue on the subsequent Monday or Tuesday.
If you would like your beast partially or wholly broken down, please discuss your requirements with us. We are able to assist you with butchering, freezing, holding and tempering of produce.
Current market price can be attained here.
Please click here to view Tommerup Rose Veal Specs; a comparison chart indicating the differences between small farm, paddock raised rose veal and the trademarked 'Rosé (rose-ay) Veal'. The Australian Meat Industry Language and Standards Committee (AMILSC) developed the optional supplementary specification of 'ROSÉ VEAL *RV* to conform with the cipher required for exportation of the *RV* product. Tommerup rose veal is not grown under these specifications, choosing instead, a non industrialised, natural approach to veal.