Oldman saltbush, and probably most other relatives, have their greatest potential where there is a well-defined autumn feed gap and the property has a significant amount of scalded land that does not grow good pasture any more.
Oldman saltbush grows well only on heavy clays and alkaline clay-loams. Saltbushes are not suited to the tropics or coastal and cool upland areas.
It is very expensive to establish but is very hardy once a few years old. Its role is as a drought reserve or a special purpose crop, not a production system. Oldman saltbush grows well only on heavy clays and alkaline clay-loams. Saltbushes are not suited to the tropics or coastal and cool upland areas.
What are saltbushes?
Saltbushes are members of a worldwide family of plants (Chenopodiaceae – chenopods) that are common in deserts and salty environments. They vary in size from small fleshy herbs to large woody shrubs. In many rangelands they constitute the dominant shrubby vegetation and are also the staple diet of many animals.
One of the best-regarded saltbushes in the world is Australia´s oldman saltbush (Atriplex nummularia). This tall shrub was very common in the Murray-Darling Basin in the 19th century but has now disappeared from many areas.
Current use of saltbushes
Currently the wool industry in the rangelands of western New South Wales (NSW), South Australia and Western Australia depends on saltbushes and bluebushes for its survival. Many of the saltbushes are palatable, nutritious and tolerant of drought, frost and saline soil.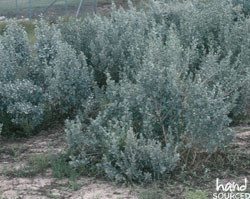 Growing shrubby saltbushes
Oldman saltbush is well adapted to heavy alkaline clay soils and in western NSW sown stands of it also persist well on texture contrast soils, especially on slightly higher levees of river frontages.
Higher rainfall environments, especially where summers are wet or winters are persistently damp, do not suit these plants.
Unfortunately, the cost of establishing a stand then becomes very high because of the need to water the seedlings initially and to control weeds. Costs range up to $800 per hectare for 2500 to 3000 bushes. On top of this, most have separate male and female plants and must cross-pollinate. Therefore isolated plants can never spread or thicken up without an opposite-sexed plant nearby.
Each saltbush paddock responds best if grazed fairly intensively for only a short time. If grazed for too l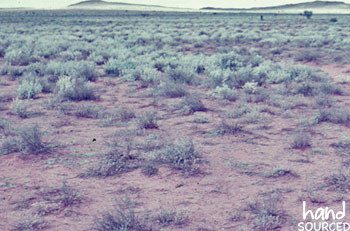 ong, animals damage regrowing twigs or start to trample bushes in their search for protected, less accessible leaf.
A well-grown oldman saltbush plant grows over two metres tall and eventually, if ungrazed, will sprawl 4-5 metres wide. However, under annual grazing most bushes are only 1-2 metres across and 1.5 metres tall.
Typical grazing systems run about 125 adult sheep (50 sheep/acre) or 15 steers/ha. At this rate 4-6 weeks grazing is possible and then the paddock must be rested for at least 8 months. Without favourable seasonal conditions during this spell, grazing must be delayed until the bushes have fully refoliated. Thickening up or spread by seedlings is virtually impossible under this grazing system.
Oldman saltbush subjected to open grazing was exterminated from large areas of Australia in the late 19th century. Nonetheless, its low palatability means new stock usually take a few days before seriously grazing saltbush, although drought-hungry stock usually take to it with some relish.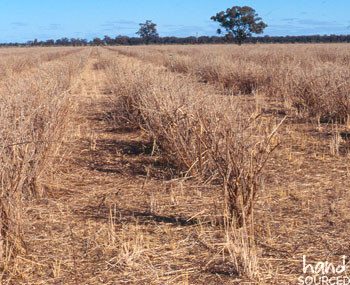 Nutritionally, saltbush has quite high protein and moderate digestibility, akin to rangeland legumes and better than mature green grass. However it is high in salt and stock need to be on good quality water to allow a high intake level.
However, oldman saltbush is usually more nutritious than other species grown commercially in Australia. Carcasses of animals from saltbush are reported to have surprisingly low fat cover for the quality of the meat and the conformation of the animal.
Further information
Glenn E, Tanner R, Miyamoto S, Fitzsimmons K & Boyer J 1998, Water use, productivity and forage quality of the halophyte Atriplex nummularia grown on saline waste water in a desert environment. Journal of Arid Environments 38: 45-62.
Cunningham GM, Mulham WE, Milthorpe PL & Leigh JH 1981, Plants of Western New South Wales. NSW Soil Conservation Service, Sydney.
Malcolm CV & Allen RJ 1981, The Mallen niche seeder for plant establishment on difficult sites. Australian Rangeland Journal 3: 106-109.
Norman H & Filmer M 2008, Make the most of saltbush forage. Farming Ahead No. 193., viewed February 2011, <www.csiro.au/files/files/piqt.pdf>.
Saltland Genie 2009, Establishment & management of dense saltbush plantings, viewed February 2011, <http://www.saltlandgenie.org.au/solutions/ss3-saltbush/establishment-and-management-of-dense-saltbush-plantings.htm>.
Warren B, Casson T & Barrett-Lennard E 1995. Value of saltbush questioned. J. Agric. W.A. 36: 24-27.
Condensed from https://www.daf.qld.gov.au/plants/field-crops-and-pastures/pastures/saltbush