We are proud to represent a small but diverse range of sustainable, ethical single origin foods, either produced on small scale family farms or thoughtfully harvested from our own Australian landscape.
We only work with animals in the way nature intended: naturally. This means no chemical intervention unless critical to the animal's health or welfare. No prophylactic antibiotics, no growth promotants, no hormones. No unnecessary antibiotics. Pastures that are free of synthetic pesticides, fertilisers, and herbicides. Clean land where stock or game can freely roam, be it on pasture or in open fields, encouraging natural rejuvenation, optimum soil fertility and plant growth.
Regenerative farming goes well beyond the 'organic' catchphrase that has come to represent very little in the table meat community. Our animals are naturally fed – a diet that is indigenous to the breed of animal, and one that does not rely on purchased feed grown outside the farm. Oftentimes, small producers raising limited or seasonal produce find organic certification cost-prohibitive. Instead, they embrace biodynamic, regenerative farming without seeking certification. We guarantee that each and every farm is running breeding, growth and life systems that are ethical, natural and sustainable.



















Each of our farms is family-owned, and our produce is always raised by those that run the land.   Our hunters and harvesters are fully trained in ethical animal collection.  We like our animals to be happy. 
---
BRYAN & KIM KISS – GRASSLAND POULTRY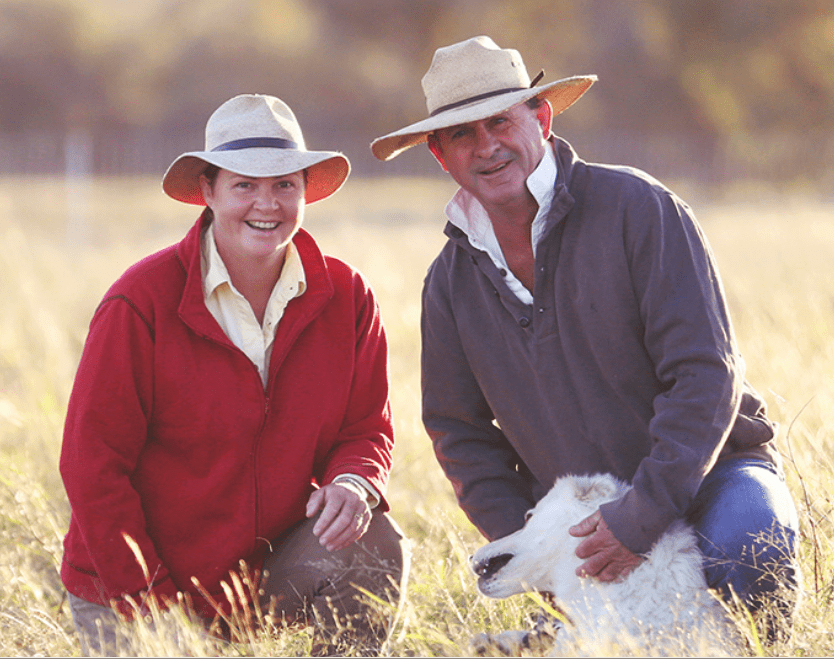 Bryan and Kim run "Meramie", a 1500ha farm at an altitude of 540m to 640 in the foothills of the Central West Slopes and Plains, NSW. Their property vision is to maintain an environmentally friendly and productive farm with healthy perennial pastures. It's a return to nature in many ways with a simple, low input philosophy that involves synergistic projects that benefit each other and the land. Their aim is to be better than organic (yes, that is possible, says Kim), and to have a balanced active connection to everything they do. Grassland Poultry are fully PROOF certified and believe in having access to healthy, ethically grown food that tastes great.  Grassland's product is truly healthy and regenerative, with animal welfare and sustainable farming taking priority. Grassland supply all our Sommerlad Heritage Chicken – a single origin product we are proud to call the 'Best Chicken in Australia'. Read more about these producers here, and buy Grassland Sommerlad poultry here. 
---
JO AND CRAIG STEWART – GOURMET GOAT LADY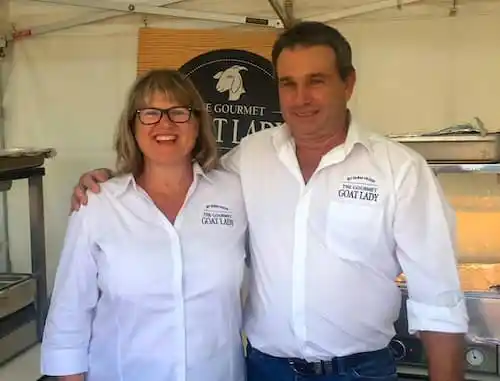 The Gourmet Goat Lady's goat meat and specialty goat meat products come from their family farm based in Collie, NSW, 42 km west of Gilgandra.  Jo and Craig are part of a family with over 100 years farming history in the Collie area, and are dedicated to raising and producing the finest farmed goatmeat in Australia. 
Jo's goats are award-winning and consistently of the highest quality – known for being 'The Best Pasture Raised Goatmeat Since 2009'.
---
HERB AND LUCY MACKENZIE – UGOOSE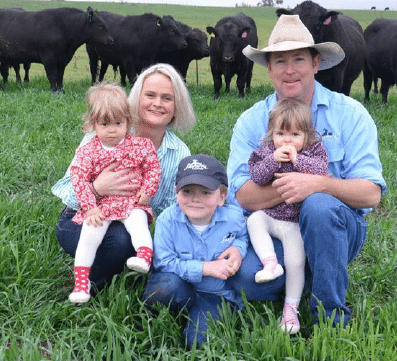 The fourth-generation Mackenzie family farm is nestled in Upper Tarwin, Gippsland, VIC, where Herb and Lucy take pride in nurturing their birds from the naturally laid eggs right through to plump, flavoursome geese for the table. Winner of Producer of the Year, the MacKenzies were selected to take part in the SBS Television series and book "For the Love of Meat" by Matthew Evans. Lucy and Herb also grow and finish the giant Muscovy ducks, prized for their rich, sweet flesh, and Lucy's range of charcuterie is handmade in the family kitchen using 100% Aussie produce. UGoose is the only fully integrated goose meat operation in Australia. Buy UGoose Geese here.
---
FAIR GAME WILD VENISON
Based on the northeast NSW coast, Jonas brings us premium quality, wild-caught venison. Un-farmed, all-natural, free from added hormones and antibiotics, Jonas' produce originates from wild grazing animals with unrestricted access to native Australian bush-food and prime grazing land. Our field harvesters work with landholders to control deer numbers on their properties, reducing grazing competition with livestock and crop damage in horticultural enterprises. In recognition of the quality, ethos and sustainability of the product, Fair Game was awarded a Gold Medal at the Delicious. Produce Awards 2020.  Buy Fair Game Wild Venison here.
---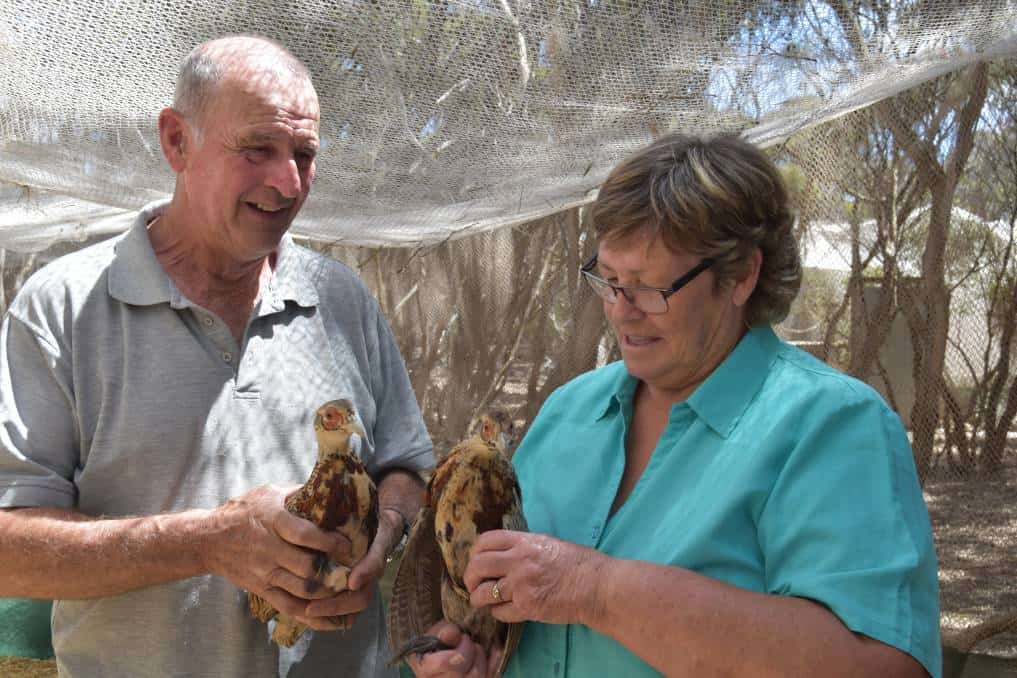 JOHN & CHRISTINE KERSLEY – HERITAGE HILL PARTRIDGE AND PHEASANT
The Kersleys live on remote Kangaroo Island, overlooking the 360-degree views of both bush and the Southern Ocean, on a 200-acre bush block on the Dudley Peninsula.   With just 30 usable acres, the remaining 170 acres is Heritage listed. It is here the lucky birds of Heritage Hill Partridge and Pheasants breed, hatch and grow to maturity before being processed and dispatched. Buy Heritage Hill Pheasants here; and buy Heritage Hill partridges here.
---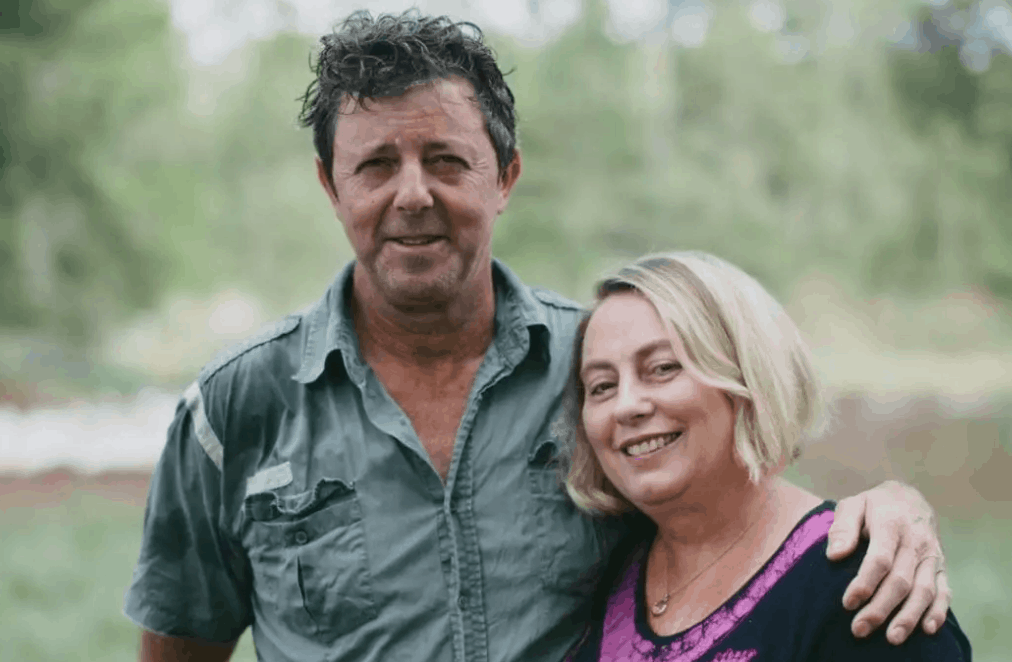 BETH & HAYDEN McMILLAN – BURRAWONG GAIAN
Burrawong Gaian is an award-winning , vertically integrated Humane Choice accredited poultry farm near Bellingen on the Eastern Coast of New South Wales, that pride them selves on sustainable organic farming practices. Their produce is raised in a natural open range environment, allowing them to forage and express their character. They are free from chemical additives, artificial hormones and medications. The McMillans support the Rare Breeds Trust providing ethically produced food, and process poultry on site. Shop for your Pekin duck here. 
---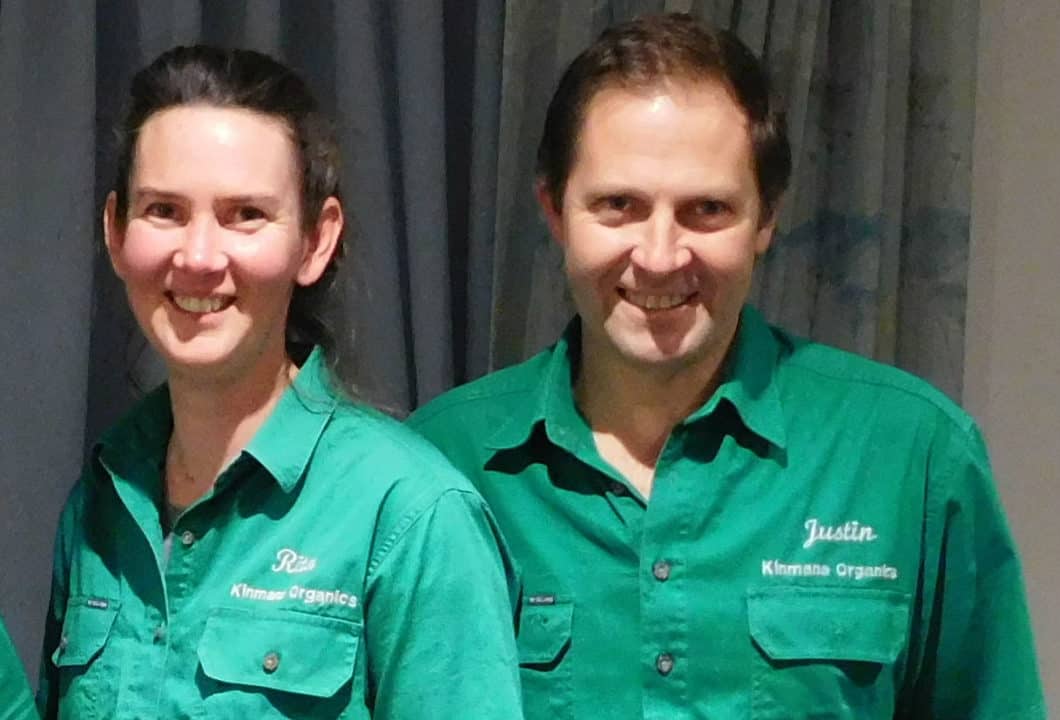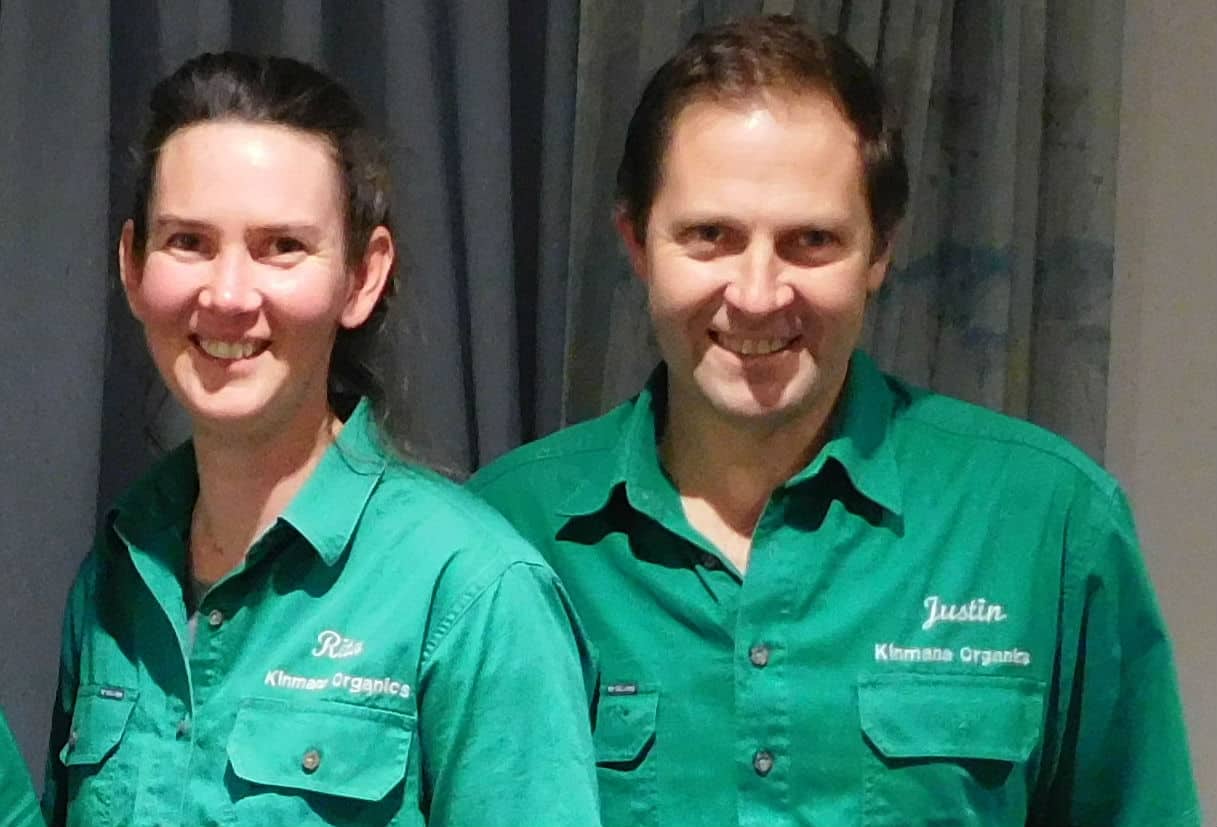 JUSTIN & RITA PORKER – KINMANA ORGANIC FARM
Justin and Rita run Kinmana Organic Farm with their 5 children. Their philosophy is simple: "Our farming methods reflect our desire and commitment to provide a safe and sustainable place for future generations." Justin is a fourth generation farmer, and Rita is from organic farming background in central Queensland. Together, they developed a specialised farming system to suit the delicate South Australian environment, thus ensuring a balance of production and maintaining ecology. Dedication to organics began for the couple over a decade ago when Justin's severe chemical sensitivity resulted in a commitment to producing 100% natural, chemical-free meat. Kinmana are fully PROOF certified. Buy your organic lamb, hogget or mutton here. 
---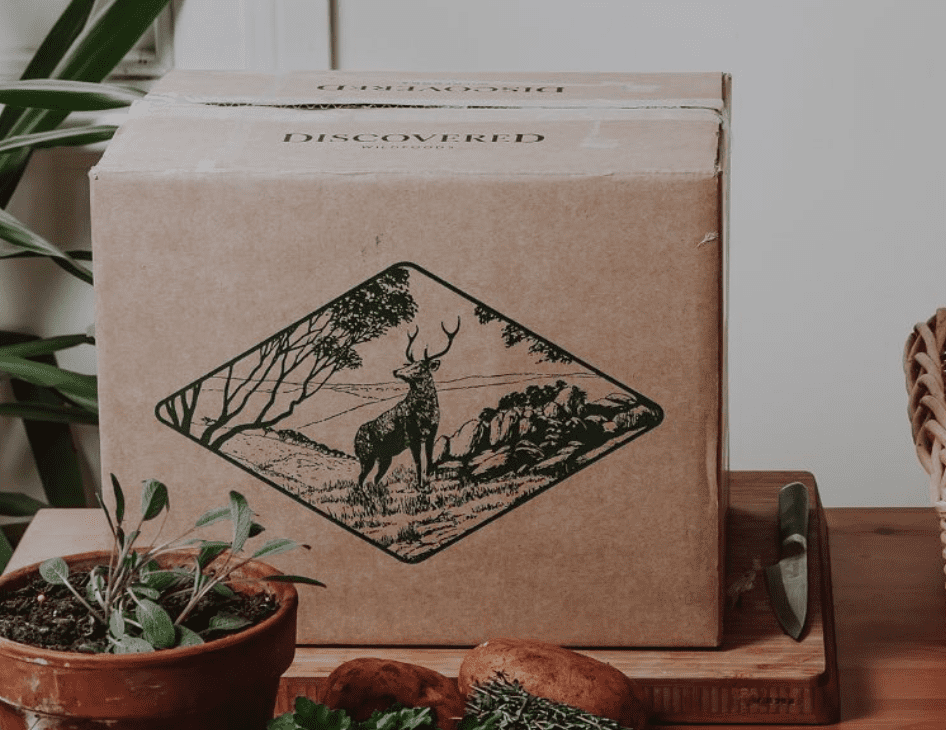 DISCOVERED WILDFOODS
Without natural predators to curb the huge numbers of wild venison and boar, these animals are damaging Australia's native habitats & agricultural land at an alarming rate. Vast taxpayer sums have been spent attempting to reduce numbers. Expensive tactics like helicopter culling have had limited impact, leaving thousands of kilos of edible meat left to waste in the process. Discovered Wildfoods believe the fragility of industrialised food systems has never been clearer – now more than ever we must reconcile sustainability with what's on our plates. Buy your Wild Venison here. 
---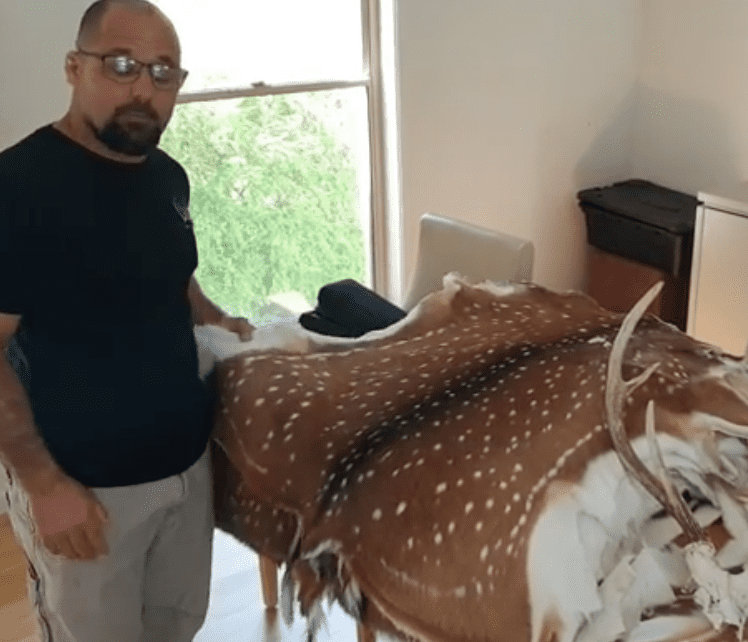 ADAM NEILSON

Adam Neilsen from Australian Wild Game Harvesters is our newest supplier, and is rapidly filling the gap in the SEQ market with his supply of sustainable, wild harvested premium venison, delivered from the bushland to you.Adam's tikkety boo new set up is a state of the art wild venison processing facility set in the Sunshine Coast region.
Specialising in local Chital breed, Adam is a qualified butcher and ran his own shop for some years, before moving onto other things. A keen recreational bow and rifle hunter, he saw an opportunity to take advantage of the area's burgeoning deer population and develop a sustainable resource in what would otherwise be wasted in culling activities.
Adam says "the venison you buy actually comes off local farmlands and not from a delivery truck. I'm fully transparent and sustainable – what I shoot is what you get"  Buy Whole Venison Carcasses here. 
---
MICHAEL & KATHRYN SOMMERLAD – FOUNDERS OF SOMMERLAD CHICKEN
Until late 2017 the Sommerlad family personally managed, bred, and developed their exclusive heritage table poultry for the Australian market. Diverse pedigree strains, specifically bred to thrive in free-range pasture rearing environments, well suited to Australian climatic conditions. Sommerlad chickens are, by nature, active foragers. They boast long, strong legs, colourful plumage and walk tall and proud due to pasture grazing and a natural diet.​ Unlike commercial strains, Sommerlad birds are naturally slow grown for 10-12 weeks before processing. At a time when nearly all chicken farmed and eaten in our country comes from the same imported genetic stock, Sommerlad chicken represents a quiet revolution in Australian chicken farming.  Sommerlad chickens are used in many of the top restaurants in Australia. Buy Sommerlad Heritage Chickens here. 
---