"Cooked slowly to give you thin, crispy skin and beautiful, melt-in-your-mouth meat" – Jamie Oliver
This adaptation of Jamie's original, which touted the use of just the legs, comes with the stamp of approval from hand Sourced's customer Peter Best. As Peter pointed out – why use just the legs when you have this whole amazing Muscovy to play with? We agree. Just make sure you section out the raw duck to ensure you don't have a large bird sitting on top of the delicious plum mixture.
Our Muscovy Ducks are free ranged, pasture reared, no hormones, antibiotics or veterinary drugs administered.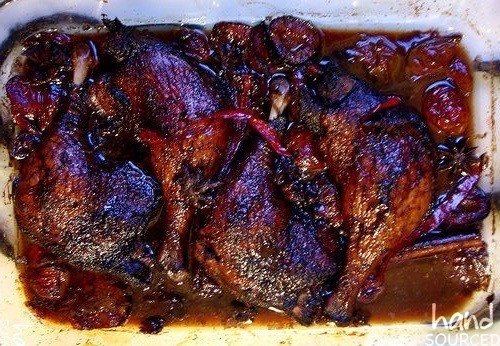 Prep: 2hrs-48hrs

Cooktime: 2-2.5 hours
Serves: 4
Ingredients
4 fat duck legs (we use one full Muscovy duck around 3.6kg)
4 tablespoons soy sauce
3 teaspoons five-spice
1 handful star anise
½ stick cinnamon
1 tablespoon olive oil
1-2 fresh red chillies , deseeded and sliced
16 plums , halved and destoned
2 tablespoons Demerara sugar
Instructions:
Place the duck in a marinating dish with the soy sauce, five-spice, star anise, cinnamon stick and olive oil and rotate regularly to let them marinate for a minimum of 2 hours. To really get the flavours going, you could keep this in your fridge to marinate for up to 2 days. It's important to flip the container every few hours if you can, you really want the marinade to infuse the meat and impart the sweetness as deep as possible.
Use a high-sided roasting tray that snugly fits the duck. Place the chillies, plums and sugar in the bottom of the tray and then pour the marinade from the bag over the top. Mix it all up using your fingers, and place the duck on top. Smear as much of the mix over the duck as you can (or you'll end up with dry duck and burned fruit)
Place the tray in a preheated oven at 170°C for 2 to 2½ hours until the meat falls away from the bone. Remove the star anise and cinnamon stick, then taste the sauce to see if it needs to be seasoned with a little more soy sauce. It's now down to you how you would like to serve it.
Serve wrapped in sauce smeared Chinese pancakes with cucumber and spring onion slivers; or simply with rice or noodles and the chunky, jammy plum sauce that the duck has cooked in.