Lamb, Certified Organic – Side (Kinmana, Mallee, SA)
Price: $280.00 per side
Deposit per order (due now) : $100.00
ORIGIN STORY
Justin is a fourth generation Mallee farmer, and Rita comes from an organic farming family in central Queensland. Kinmana Organics products are the result of their collaboration, and they specialise in the best organic, free-range produce that is both healthy for the earth and healthy for you. The Porkers believe that some things are best left to nature, and lamb is one of them.  Because nothing beats slow-grown pasture-raised produce.
Stringent organic certification and inspection requirements by AusQual guarantee you will receive only the highest quality produce. NO GMO, NO CHEMICALS, NO HERBICIDES ON THE PASTURE, AND NO PESTICIDES. No mulesing or flystrike chemicals. You can view the Porker's organic certification certificates here. 
YOU ARE PURCHASING:  HALF BOX of LAMB (choose from 1 or 2 sides) – genuine, export quality prime certified organic lamb from Justin and Rita Porker's family farm. Weight: 11-13kg per side average some larger, some smaller. 
Your side of lamb includes: (choose options below)
2 x  ½ leg roasts (approx 1.5kg each) OR 1 x whole leg

1 x shank

loin chops (if you'd prefer a rack, let us know in the 'notes' section')

cutlet chops

forequarter (shoulder) chops OR shoulder on the bone OR boned shoulder

neck chops

lamb breast/flap with ribs

trim

liver, kidney, heart (if desired)



How to Order: Make your selection below, choose number of sides (1 or 2) and quantity of order ('1' x 2 sides equals 1 full lamb; '2' x 2 sides equals 2 lambs etc) pay your deposit, and we'll invoice you the balance of weight of the lamb. Lamb is provided frozen. Delivery due late May/early June. Please ensure you have read the collection/delivery options below before placing your order. Queries? contact us here, we're happy to help. 
2023 lamb sides are now sold out. Currently taking orders for 2024 – join our mailing list, or contact us here, to be placed on the waitlist.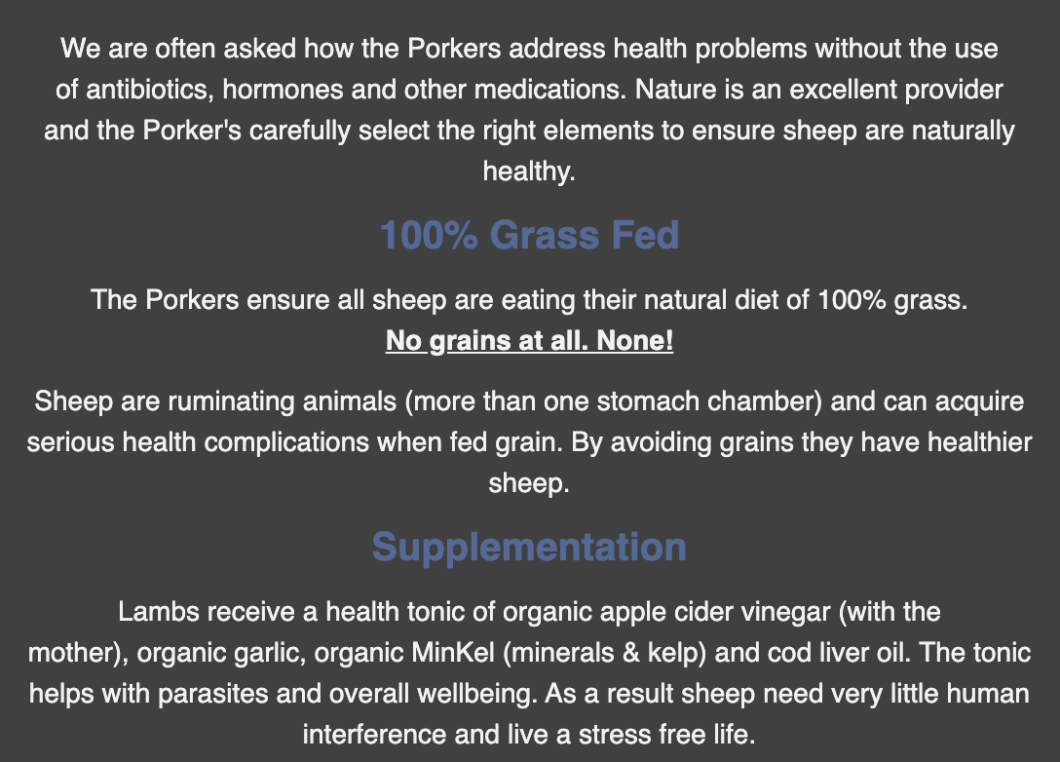 Collection or Delivery
Collection or Delivery
Where a deposit is required to secure the order, the balance of your account will be subject to any final weights.  Payment of all balances must be made prior to collection or delivery, and can be made via bank transfer or credit card (a 2.5% credit surcharge applies). Balance totals, including delivery or handling fees, will be issued via invoice.
Most of our producers and suppliers choose not to use liners, insulation, or ice packs in their packaging to reduce their carbon footprint and minimise waste. Your product will arrive in typical wholesale packaging (sealed cardboard cartons). You must be home for your delivery or ask a neighbour to receive your box and place the products in your refrigerator or freezer.
Unfortunately this product is out of stock.
Fill out the form below to join our waitlist.