Heritage breeds are specially raised and heralded for their intensely flavourful meat and fat. In the realm of haute Japanese proteins (all apologies to tofu)- wagyu beef, jidori chicken and kurobuta pork reign supreme. But you don't have to travel to the Far East to experience some of the best pork on menus today. Kurobuta or "black hog" pork comes from the famed Berkshire pig. 
Yup, Berkshire and kurobuta are the same thing. And this makes a real difference. Ever had a leathery, dry pork chop or tenderloin you simply didn't have enough saliva to swallow? Conventional farm-raised pigs tend to lack the incredibly tasty fat that heritage breeds have maintained, keeping their meat juicy, tender and, yes, expensive. But if you're a true fan of pork, heritage is worth every succulent bite.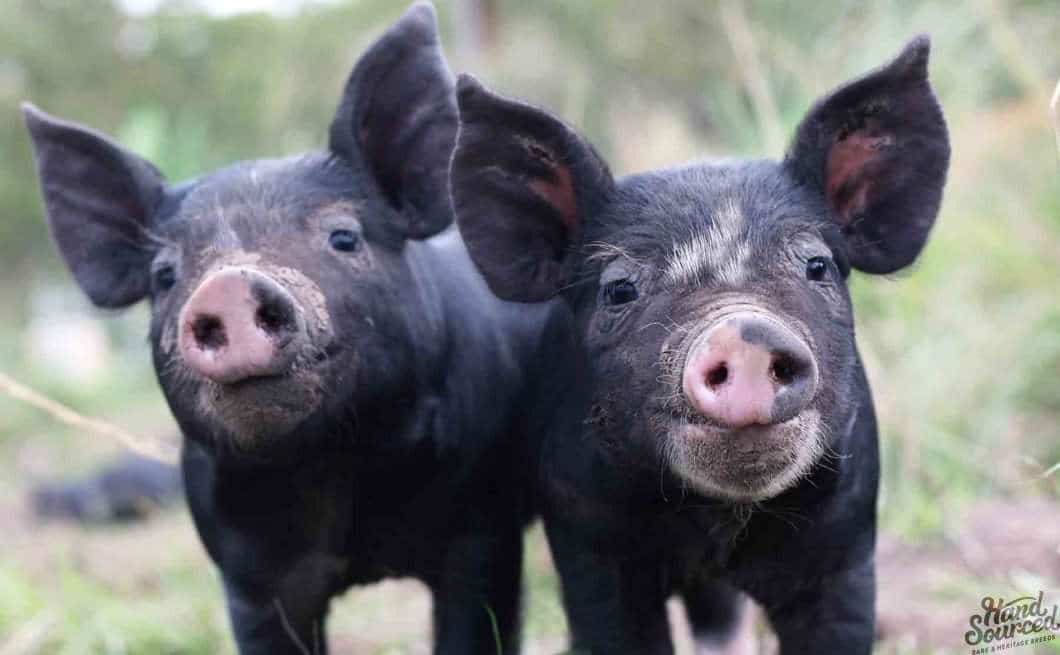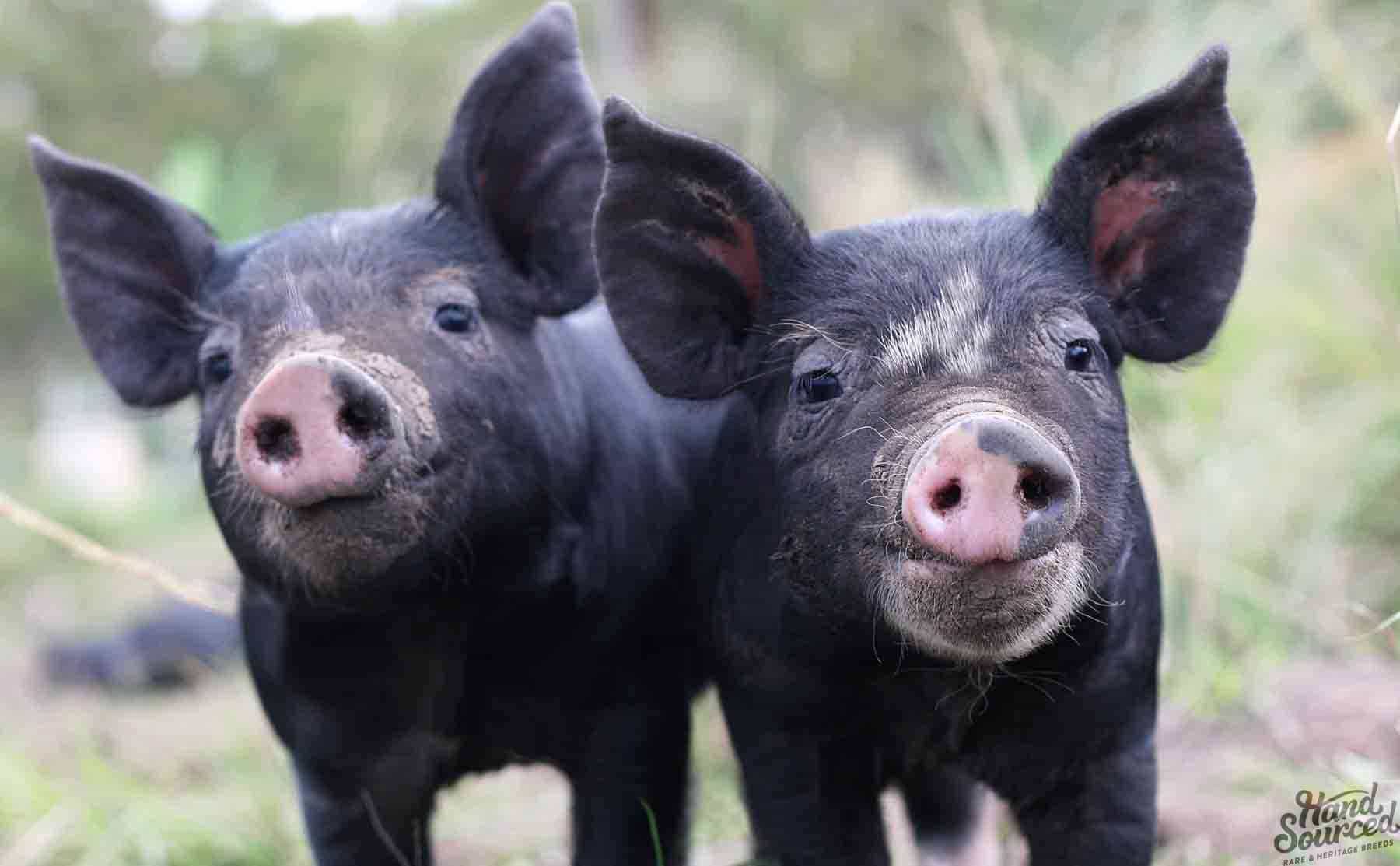 The Berkshire is also bred in Kagoshima Prefecture, Japan, under the trademarked name Kagoshima Kurobuta -かごしま黒豚, "Kagoshima black pig".
About the breed
Berkshire pigs are a rare breed originating from the English county of Berkshire. Herds of the breed are still maintained in England by the Rare Breeds survival trust. Berkshire pigs are almost entirely black, with white points on the feet, nose, and tail. They are an medium to large breed of pig, with an average weight at maturity of 270 kg. They are a short-legged breed, have prick ears and a relatively short snout with an upturned nose. The Berkshire is listed as vulnerable with fewer than a hundred purebred sows listed in Australia. The Fawckner family are dedicated to continue to raise the number of purebred Berkshires, and by supporting them in their meat produce ventures we enable their work to continue.
Culinary uses
Berkshire pork, prized for juiciness, flavour and tenderness, is pink-hued and heavily marbled. Its high fat content makes it suitable for long cooking and high-temperature cooking. Compatible flavours are caraway seeds, coriander, cumin, curry powder, dill, garlic, rosemary, sage, fennel, and thyme.
The Empress of Blandings in P.G. Wodenhouse's novels, the sow Pig-Wig in Beatrix Potter's novels, and the antagonist pig Napolean in George Orwell's Animal Farm were Berskhires.
Texture and Flavour
Heritage and slow growth give pork a distinctive and genuine depth of flavour. The texture is firm to the mouth, with yielding meat and a juicy finish. Their fat is perfect for clarifying for homemade lard, and the caul perfect for wrapping leaner cuts of meat or game.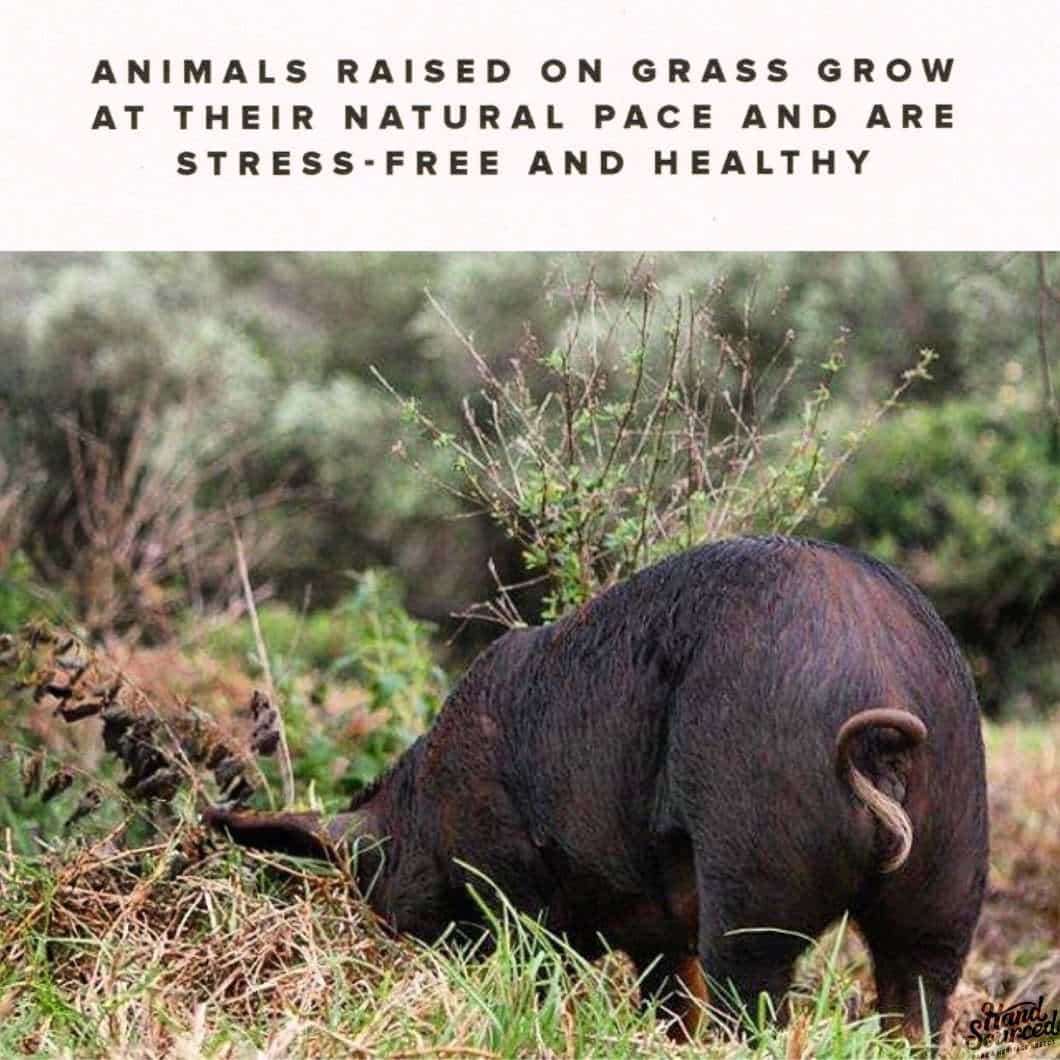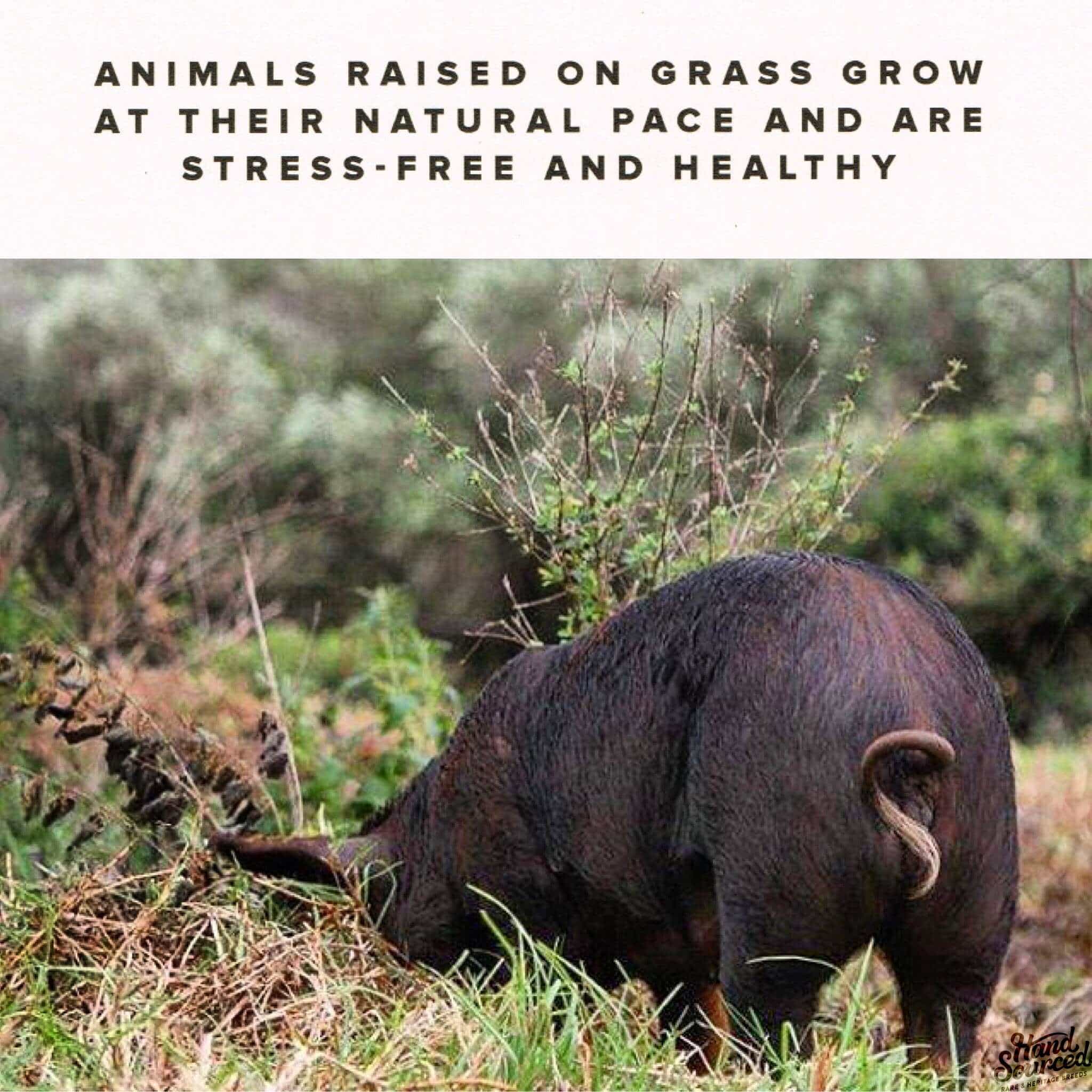 Pigs are one of the most poorly treated animals in Australia, with over 90% of pork products coming from factory farms where pregnant sows confined in sow stalls.  If there is no mention of free range, then you can be almost certain it has come from a factory-farmed environment.
A note on 'Pasture Raised' vs 'Free Range' vs 'Cage Free'
Factory, or intensive indoor pig farming, is the predominant form of farming in Australia. It equates to a whopping 90%, resulting in the cheaper pork we are used to buying. True free range, pastured pork is not expensive, moreover, it is a reflection of the true cost of free ranging animals ethically consumed for meat production.
In factory farming, pregnant sows are confined to individual metal sow stalls. Once piglets are born, the sow and the piglets are transferred to a farrowing crate, which restricts the sow's movement to the point she is unable to interact with her young. Once the piglets have matured, the sow is impregnated again, and the cycle continues. Some farms advertise 'sow stall free', however, sows are still housed indoors in confined group housing stalls and farrow in crates.
Factory farmed pigs may never experience or even see the outdoors in their life span.
Pigs require a different diet to sheep, cattle, and goats. Pastured pork is not 'grass fed', in the true sense of term, as pigs cannot survive on grass alone.  Rather, pigs are omnivores and get much of their nutritional needs from the soil, small amounts of grass, and supplementary nutritionally balanced feed. 'Pastured' free range pigs have access to grazing, live in open paddocks with plenty of room, no feedlots and no overcrowding and definitely no indoor confinement.
Raising pigs on pasture means sows live their entire lives outdoors and give birth outside while being provided protection from the elements and predators.  Our chosen farmers do not supply fixed sheds or buildings for shelter; rather, movable eco straw bales are used by the pigs for protection from inclement weather. 
You can order your Berkshire Pork here.