This recipe was first posted by my good friend, Kathryn Sommerlad, and appeared on her Sommerlad Poultry Farm Blog which ran from early 2015 to late 2017. This is replicated with her permission. I do hope you'll try it – the robust flavours of a Sommerlad marry so well with festive sweet cherries and a dash of spice.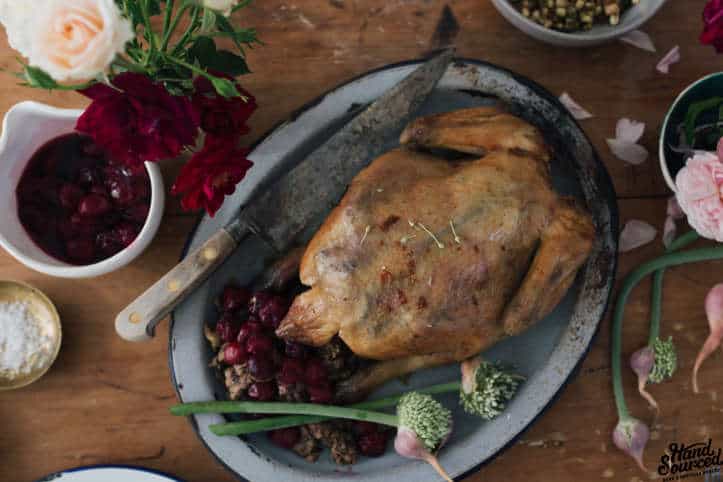 For our family, Christmas day is more about time with loved ones than slaving in the kitchen, but we always plan a special feast to celebrate. Choosing good quality and seasonal ingredients, means much of the work is already done, like this rustic festive table of roast chicken, served with fresh cherry sauce, baked vegetables, stuffing and greens. – Kathryn Sommerlad
Fresh Cherry Sauce
This versatile sauce takes just minutes to prepare – but is a great example of how easy it is to create a little "special" without any fuss.
Ingredients
2 full cups fresh cherries, pitted and stemmed
2 tablespoons water
2 tablespoons butter
1 to 2 tablespoons caster sugar
2 teaspoons cornflour
A dash of ground ginger or nutmeg (optional)
Instructions
Place pitted, stemmed cherries into a saucepan over medium heat. Add all other ingredients and bring to the boil for about three minutes. Stir occasionally, reduce heat to low, and allow to simmer until cherries are tender and the sauce has thickened. Remove from heat and serve warm. The sauce can be stored in an airtight container in the refrigerator. It goes with both savoury and sweet – with your breakfast, with your roast pork, chicken, or ham, and with your ice cream and cheesecake, or serve with cake. The sauce on our featured table was made from freshly picked cherries from my brother's orchard "Cherrydale", which makes them even more special of course, and the cooking, styling and photography is thanks to a local Tenterfield lady whose creative energy reaches far beyond our little country town – Annabelle Hickson.
Roast Chicken
There's a lot of different opinions about the best way to roast a chook, and I don't profess to be a trained professional. In my old farmhouse kitchen, you will often find me placing one of our large chickens on a baking dish, and into a slow oven. Two hours later I think to check it. But not everyone has the privilege of regular opportunities to roast heritage chicken, and you know what they say about learning the rules so you know which ones you can do away with. However, heritage chicken is not the same as modern breeds of chicken, and for those who haven't roasted one, here are my favourite tips. – Kathryn Sommerlad.