Congratulations on your purchase of a Sommerlad Heritage bird – the only birds in Australia to be bred with a fully traceable heritage that spans generations, with the added goodness of being fully raised outdoors on pasture.  Your bird's parents were raised on pasture. So were their parents' parents, and their parents' parents' parents, and… well, you get the message.
So now you have your chook, how are you going to cook it?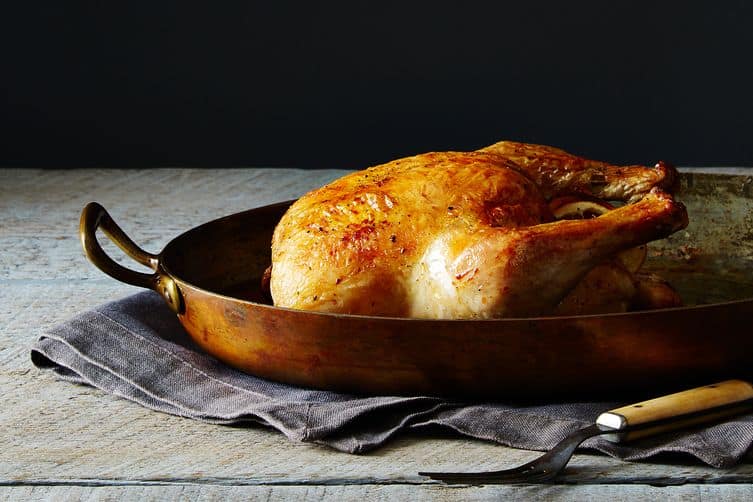 Our chickens are so full of real flavour there is no need to go to a lot of fuss. Try our slow roast method below; bake your favourite vegies; make gravy with the pan juices – and sit back and take the credit. Everyone will love it!
Please note: it's important to fully defrost frozen chicken before cooking. The safest way to do this is in the fridge for at least 48 hours (we like a good 3 days). Defrosting in a microwave can affect the texture of the meat.
Please do not wash your chicken!
There may be a few feathers and quills. These birds are hand finished. You can take the time to pluck any quills (like you would boning a fish) or just give the chook a wipe with salt, pepper and olive oil, and bung it in the oven. The quills will cook out and dissolve for the most part. 
Like working with any heritage breed, low and slow cooking is the go. Sommerlad chickens grow for at least twice as long as conventional chicken, and we recommend you cook them at a lower temperature, and for longer. This helps ensure the density of the bird is respected and cooked all the way through. The birds often have a pinkish tinge toward the centre of the thigh bone when cooked. This is not to be confused with under cooking and as long as the joint moves freely, it is perfectly safe.
Your bird might be tagged. This is your bird's individual and unique number and is a sign of its provenance. This tag is oven safe and can be left on during cooking, it will not perish or taint the meat. If you have any problems, issues, feedback or simply want to share your opinion of your bird, you can quote your tag number back to me.
Use the whole bird. Skip buying breasts, wings, thighs or marylands. The great thing about cooking whole chickens is that the leftovers can be used towards extra meals. Start by making your own chicken stock from the leftover carcass or feet, then combined with the leftover meat, you have the wholesome basis for all kinds of yummy meals like risottos, pies, soup, pasta bakes and curries.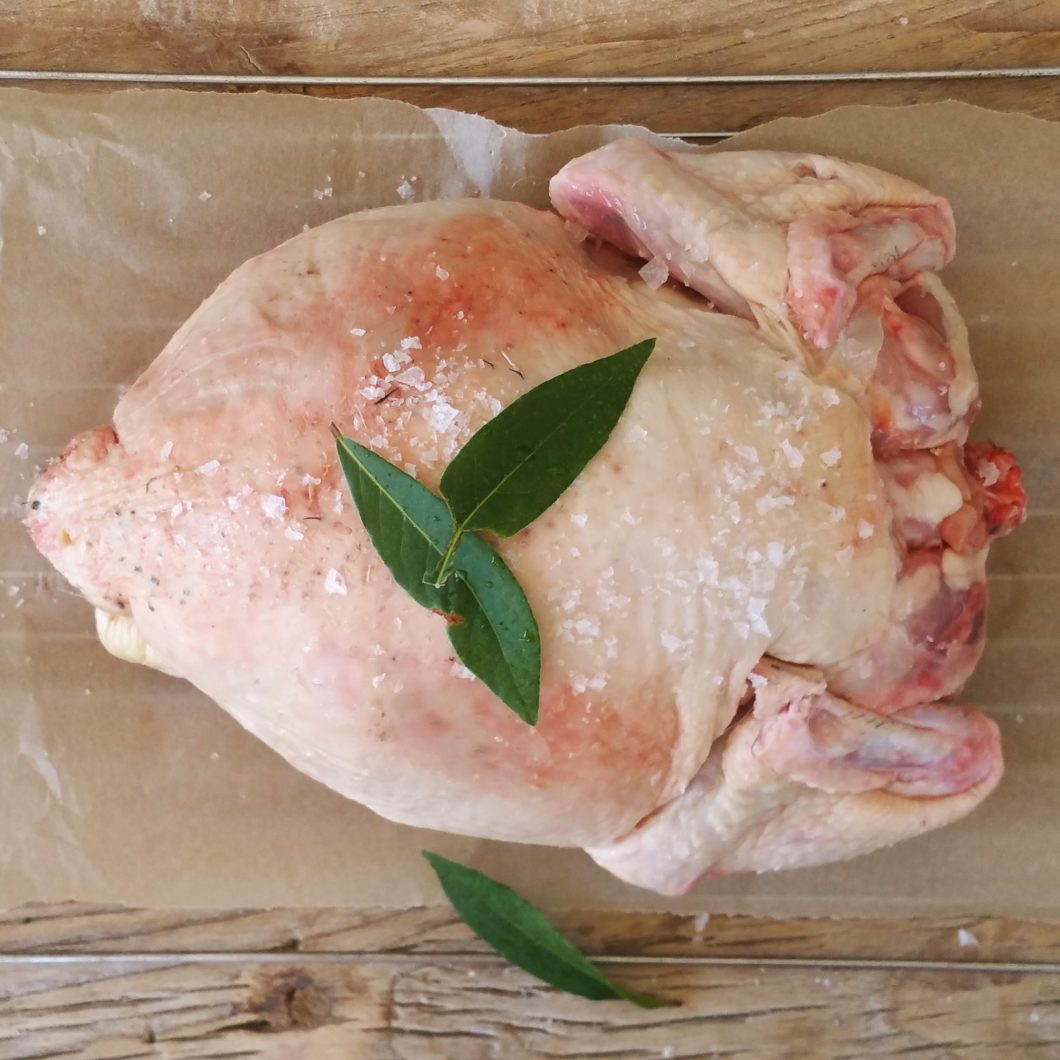 Easiest Roast Sommerlad Chicken
 Just four ingredients are all you require to create the most succulent roast chicken. Ever. Two things to remember: do not wash your chicken; and 2: if you can, point the chicken's vent (the bottom end) towards the fan in a fan forced oven. This will ensure an even distribution of heat essential in permeating the dense flesh of these incredible tasting birds. This recipe will give you moist, tender white meat, crisp, salty chicken skin, and juicy dark meat just begging for a simple, home-made gravy and a side of veg.
Ingredients
3 tablespoons extra-virgin olive oil
Salt and freshly ground black pepper
Method
Pre-heat the oven to 170c.
Rub the chicken all over with quality olive oil and season generously.
Place the chicken into a low sided heavy-based roasting dish on a low rack in the oven, breast side up. Roast until the bird is golden brown and an instant-read thermometer inserted into the meaty part of the thigh reads 70 degrees.
Tip the pan to let the juices flow from the chicken's cavity into the pan.
Transfer the chicken to a platter and let it rest for at least 10 minutes while you prepare the gravy.

Easiest Roast Sommerlad Chicken Pan Gravy
This is a basic pan gravy. It doesn't matter what the meat is. Follow the same technique for a leg of lamb, roast beef, roast pork loin, or roasted Sommerlad chicken.
Ingredients
Pan drippings from a Sommerlad roast chicken (around 1/4 cup)
2 1/2 tbs plain flour
2 cups hot chicken stock, (more if needed) or hot water if no stock is on hand.
Salt and black pepper to taste
Method
Whisk flour into pan drippings until it resembles wet breadcrumbs. If the mixture is still 'wet', add more flour.
Place pan over low heat and gently cook, stirring, until light brown and mixture gives off a nutty fragrance, about 5 minutes.
Drizzle 1/3 of the chicken stock at a time into pan drippings, whisking each addition of stock into mixture until thoroughly combined. Continue whisking, scraping any browned pan drippings from the bottom of the pan; until simmering. Allow to simmer, stirring constantly, until gravy is thick and flour has combined with the liquid, 8 to 10 minutes.
Adjust thickness of gravy; if too thick, whisk in a little more stock. If gravy is too thin, continue to simmer, whisking constantly, until reduced and thickened. For the smoothest texture, strain gravy before serving. We recommend leaving your gravy 'rustic'.
Easiest Roast Sommerlad Chicken Stock
This chicken stock recipe is so simple – just chuck a few things in a pan and let it do its thing!
Ingredients
1 or more Sommerlad chicken carcasses– either leftover from your roast chook, or purchased meaty carcasses
2 cloves garlic
2 sticks celery, roughly chopped
1 medium onion, roughly chopped
1 large carrot, roughly chopped
2 bay leaves
2 sprigs each of fresh rosemary , fresh parsley, fresh thyme
5 whole black peppercorns
3 litres cold water
Place everything in a large, deep-bottomed pan and bring to the boil, then reduce heat. Allow to simmer gently for 3-4 hours, skimming as necessary. Once finished, pass the stock through a fine sieve and allow to cool. Once the stock is cold it should look clear and slightly amber in colour. Stock will keep in the fridge for about 4 days and in the freezer for 2-3 months.

Lastly, sit with your family and friends and enjoy real chicken, the way it used to be.
You can find out more about the Sommerlad Heritage chicken provenance at www.sommerladpoultry.com.au, take a tour of Grassland Poultry's amazing free ranging Sommerlad chickens here, and purchase whole chickens here.
SaveSaveSave