Crispy skinned lemon sesame Heritage chicken.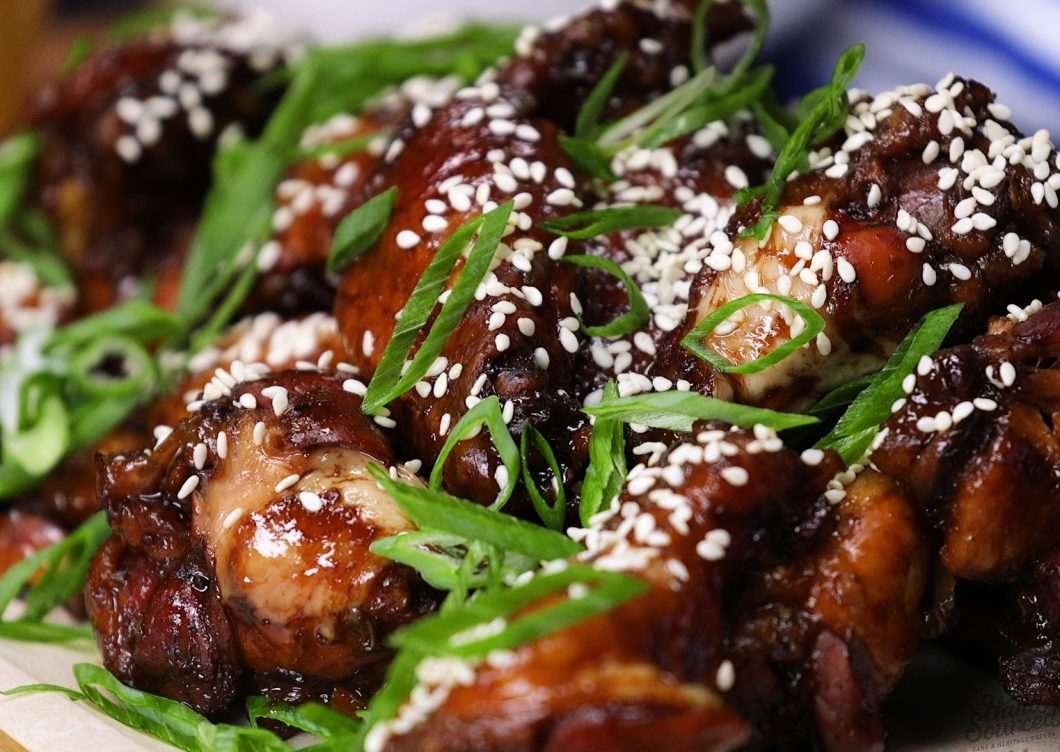 1 tbsp sesame oil
2 cloves garlic crushed
1 1/2 tbsp grated fresh ginger
1 tbsp soy sauce, or substitute coconut aminos
1/2 cup Sommerlad chicken stock from your feet, frames or necks
1/4 cup lemon juice
2 tbsp honey
6 skin on chicken thighs from your bulk chicken freezer filler carton (or bone out some Marylands, it only takes a jiffy!)
1/4 tsp salt
1/4 tsp pepper
1 tbsp olive oil
1/2 lemon cut into thin slices
1/2 tbsp sesame seeds
2 tbsp chopped scallion
Preheat the oven to 175C.
Pop a small pot on medium heat add the sesame oil, garlic and ginger and cook for 2-3 minutes until fragrant. Pour in the soy sauce or coconut aminos, chicken stock, lemon juice and honey and leave to simmer on medium-low heat (don't boil, the liquid will burn) and whisk every 5 minutes or until it reduces by half.
Heat 1 tbsp of olive oil on medium-high heat in a large ovenproof skillet. Season the chicken thighs with salt and pepper and then place them skin side down in the pan. Leave the chicken to cook for approx 5 minutes until the skin is golden in colour and crisp. Flip the chicken over and leave it to cook for another 2-3 minutes.
Once the chicken is golden on both sides, drain the oil from the pan. Pour the reduced sauce over the chicken in the pan and scatter a few of the lemon slices around the chicken. Transfer the pan to the oven and bake for 10 minutes until the sauce has become thick and sticky.
Before serving pour some of the excess sauce from the bottom of the pan over the chicken and garnish with sesame seeds and spring onion.
Pick up your delicious Grassland Sommerlad chicken portions here