In processing Grassland Poultry's Sommerlad Heritage chickens, we don't use any chlorine at all. Ever. 

Why on earth are we telling you this, I hear you ask?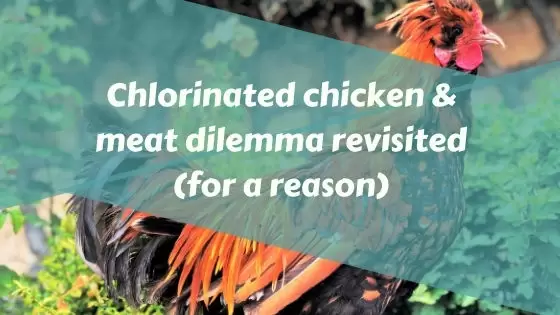 Australian farmed chickens, including organic chickens, are always treated with chlorine. With organic chickens, the final wash spray lasts for 3 to 4 seconds, where chlorine is added at a rate of 20 parts per million (p.p.m.). Then the birds are put on racks for draining and air-chilling.
With non-organic chickens, the birds go in the spin chiller – an ice slurry of heavily chlorinated water up to 150 p.p.m. (some higher). They spin/tumble/worm through this for 20 minutes, and absorb approx. 9% of the liquid. In my research, I've also read between 2 and 12% is absorbed.
 Most chicken processing uses what is known as a scald to control skin surfaces. In the standard (non-organic) system a hot scold is used, this takes the 'bloom' off the skin, so with a combination of this and soaking for 20 minutes in a high concentration of chlorine produces the 'bleached' affect, which is why standard, non heritage chickens are pinkish white with pale bones. If a chicken spends too much time in the scald tank will become slightly cooked – referred to as an 'over scald'. This usually occurs due to a break in the line or to poor adjustment of the scald temperature and line speed. Many times, these carcasses will also be machine-mutilated by picking machines.
The skin of an affected carcass feels slimy to the touch and slips from the underlying meat which is much whiter than usual. This is why the skin on your non heritage chicken might feel very 'thin' and slippery.
Richard Cornish, from Good Food, reports on the Australian bleaching system: 
Australian chickens are given a bath in chlorine during processing that knocks out most of the naturally occurring campylobacter and salmonella on the chicken skin – but not all the bugs. There is a lot of water used in processing and when packaged this water and some of the serum from the flesh leaches out." 
You can read the full article here.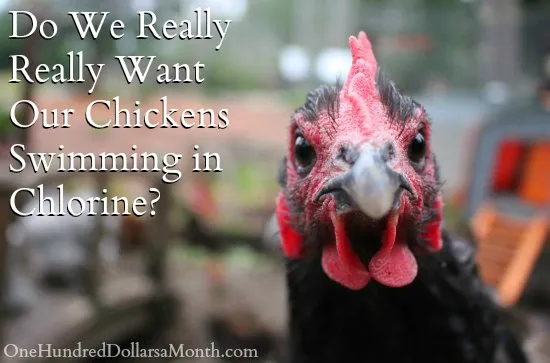 Inglewood chickens, QLD, explain why your chicken often has that watery fluid at the bottom of the bag. It's remnants of the bleach solution, which is absorbed during processing, into the porous bones and meat of the bird. This is consumed by the consumer, and is especially concentrated if you use commercial birds for your stocks and broths.
The majority of Conventional and Free Range processing methods involve a step called 'Spin Chilling'. In this step, the birds are tumbled in a chlorinated ice slurry bath to rapidly reduce the core temperature of the poultry. During submersion in this Spin Chill bath, the birds can absorb a percentage of chlorinated water (approved by government legislation). By quickly reducing core temperature this way, mass production operations can begin portioning immediately"
So why bleach chicken in the first place??
Washing the chickens in a strong chlorine solution (20-50 parts per million of chlorine) provides a brash, cost-effective method of killing any microorganisms on the surface of the bird, particularly bacteria such as species of Salmonella and Campylobacter. On a bulk scale, it means  hundreds of birds can be processed in a day, chlorine treated to prevent the meat being contaminated with microbes during slaughter and evisceration.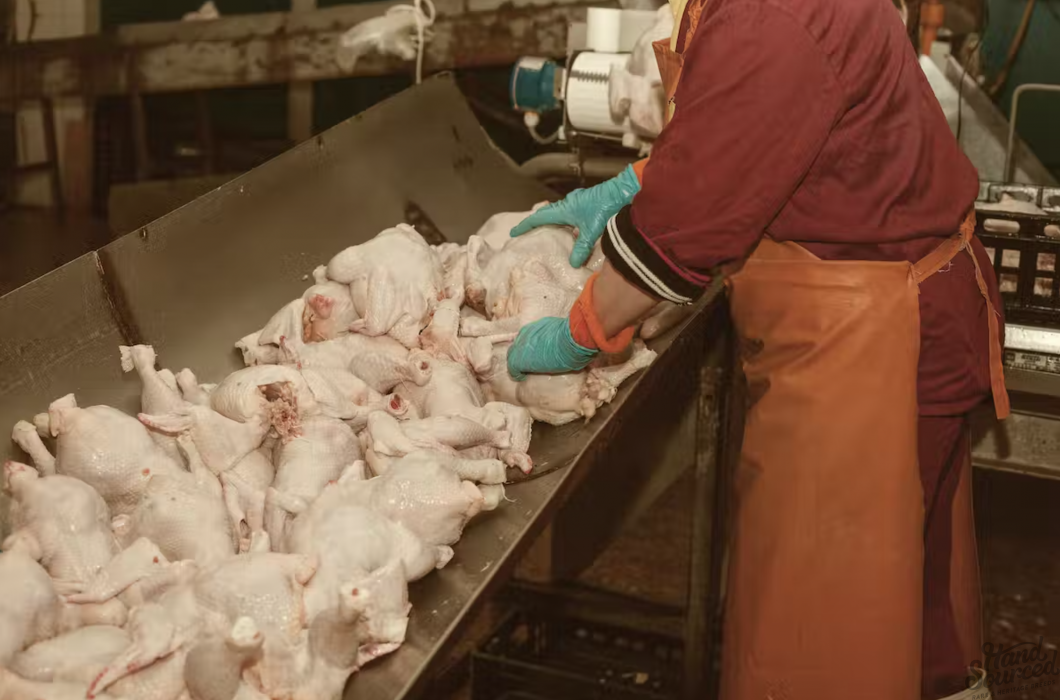 The process of bleaching chicken is banned in the EU. EU officials believe the food industry should be continually improving hygiene standards in all steps of processing and so have banned chickens washed in chlorine as a deterrent to poor practices. But here in AU, the poultry welfare standards are set quite low, so the process is common.
Grassland Poultry is one of just a very small number of farm based abattoirs in the country, avoid the introduction of chemicals and synthetics. Kim and Bryan Kiss say:
Finally, the way chickens are processed makes an enormous difference to both the welfare of the bird and the quality of the end product. Our processing facility allows us to have complete control over what we do, right here on the farm. Our birds are spared the trauma of travel and are processed in the most humane manner possible, by hand, resulting in superior quality produce. Air chilling allows us to avoid the introduction of chemicals and liquid weight and any waste is composted back into the farm.

It's not the cheapest way to raise chickens, but there really are no shortcuts to raising healthy, happy chickens that have that old Sunday roast taste – the way they used to."
You can take a look through the abattoir, below.
Chemical free, hand processed chicken – Grassland Poultry
If you'd like to do some more research, you can find out more about the consistent use of chlorine through the Australian Chicken Meat Federation here; through the MLA Industry standards here (pdf download); and, if you ignore the expected propaganda from Animals Australia, you can read truth between the 'shock tactic' images here.  Even Wiki has an entry: right here. 
Read more about the original genetics and breeding here; and about Grassland Poultry's Heritage chickens here. 
Are you wanting to be part of the difference? Buy your Sommerlad Heritage chicken here.  No bleach, no chemicals, no anything other than happy, healthy, outdoor roaming chickens. Ever.