This recipe is one of those failsafe, timeless, chuck it together jobs that leaves people thinking you spent hours in the kitchen.
But without the hours in the kitchen.
It's from Yotam Ottolenghi and Sami Tamimi's 'Jerusalem', and I have used our own Kinmana lamb leg – a shoulder will do the job too. 
The exterior gets charred and caramelised and when it's time to serve, crispy little bits fall off. And the inside is pink and glisteny and melty and soft and has the consistency that encourages you to roll your eyes around in the back of your head and moan a little. I told Yotam that when I met him in 2015. (Did you know I met Yotam? I met Yotam. It was my moment. I might have had some eye rolling and moaning going on myself, at the time. Purely private, of course). 
It is, correctly in authenticity, noted as a shawarma.  But Ottolenghi and Tamimi do get that most people don't have a vertical spit kicking around their kitchen. So in this case, you marinate, roast and baste.  The result? A shawarma that isn't.  We use Lambtastic's saltbush lamb on the bone when we have it in stock. The salty, slightly smoky umaminess of the saltbush just adds to the overall flavour. Good stuff.  
Our lambs are hand selected direct from the farm where they have enjoyed a grain free life on wide open pastures. This grazing gives the lamb a unique texture, flavour and nutrient dense quality that we guarantee will have you totally converted from supermarket lamb.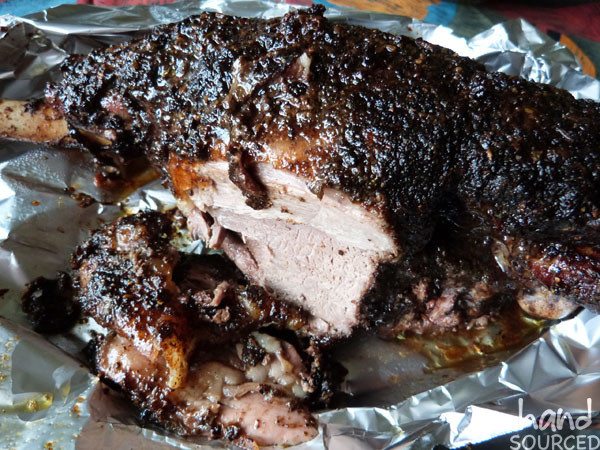 Saltbush Lamb Shawarma
Adapted from  Ottolenghi's Jerusalem

Prep: 30mins
Cooktime: 4.5 hrs
Serves: 4-6
Ingredients
1 tsp black peppercorns
5 cloves
½ tsp cardamom pods
tsp fenugreek seeds
1 tsp fennel seeds
1 tbsp cumin seeds
1 star anise
½ a cinnamon stick
½ a nutmeg, grated
¼ tsp ground ginger
1 tbsp sweet paprika
1 tbsp sumac
¾ tbsp Maldon sea salt
25g fresh ginger, grated
3 garlic cloves, crushed
40g chopped coriander, stems and leaves
60ml lemon juice
120ml groundnut oil
1 Kinmana lamb leg, bone in, about 2.5–3kg
Instructions:
Pop peppercorns, cloves, cardamom, fenugreek, fennel, cumin, star anise and cinnamon in a cast-iron pan set over medium-high heat and dry-roast them for a minute or two, until the spices begin to pop and release their aromas, taking care not to burn them. Add the nutmeg, ground ginger and paprika, and toss for a few more seconds to heat through, then transfer to a spice grinder, mortar and pestle, or Thermomix. Process the spices into powder. Transfer to a medium bowl, and stir in the sumac, salt, fresh ginger, garlic, cilantro, lemon juice and oil, and stir to combine.
Use a small sharp knife and score the leg of lamb in a few places, making half-inch-deep slits through the fat and meat. Put the lamb in a large roasting pan and rub the marinade all over it, using your hands to massage the meat. Turn the lamb fat-side up, cover the pan with aluminum foil and place it aside for a couple of hours, or preferably, rest it overnight in the refrigerator.
Heat oven to 180c. Remove the foil, and roast for approximately 4 1/2 hours, or until the meat is completely tender. After 30 minutes of roasting, add about a cup of boiling water to the pan, and use this liquid to baste the meat every hour or so. (Add more water, as needed, making sure there is always a little in the bottom of the pan.) After 90 minutes or so, cover the lamb with aluminum foil to prevent the spices from burning. Once the lamb is done, remove it from the oven, and leave to rest for 10 to 15 minutes before carving and serving.