Two shanks will feed four with leftovers.
This recipe is pretty cool in the way that by the time the shanks are tender and cooked, the cabbage literally melts into the sauce. If you use red cabbage you'll get a pink sauce and if you use green cabbage you'll get a green sauce. It becomes thick and unctuous and delicious. I've 'pulled' mine to serve on top of buttery mash.  (Terrible photo – fabulous tasting dish!)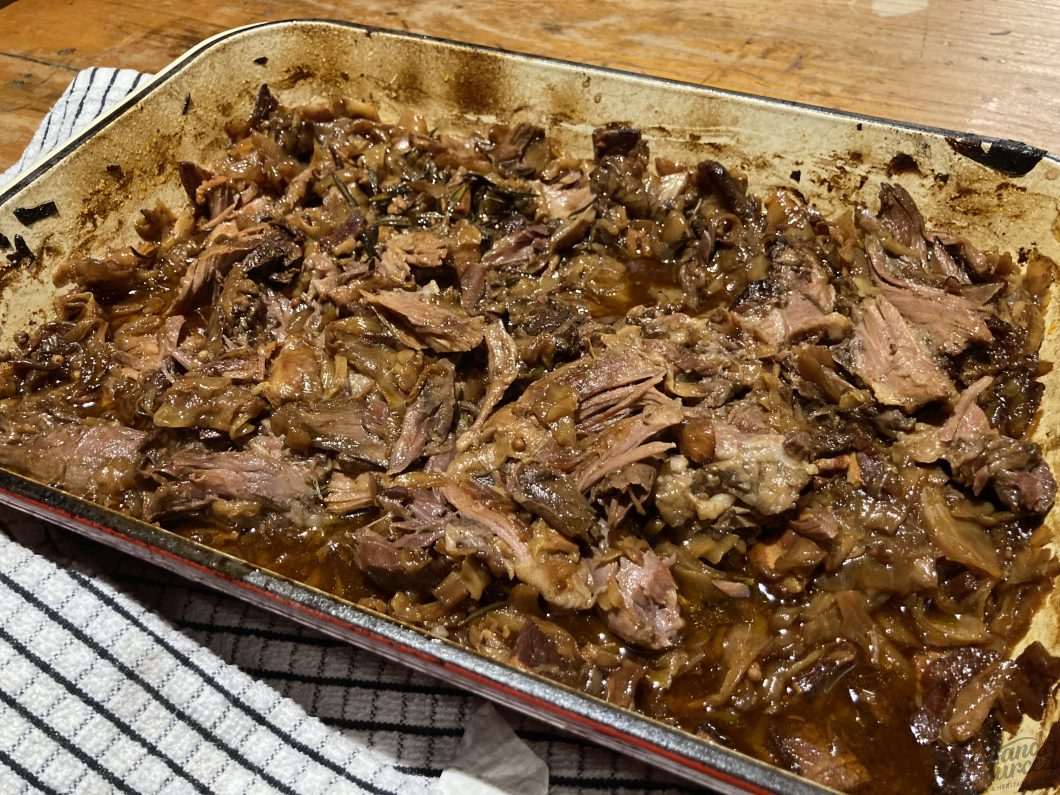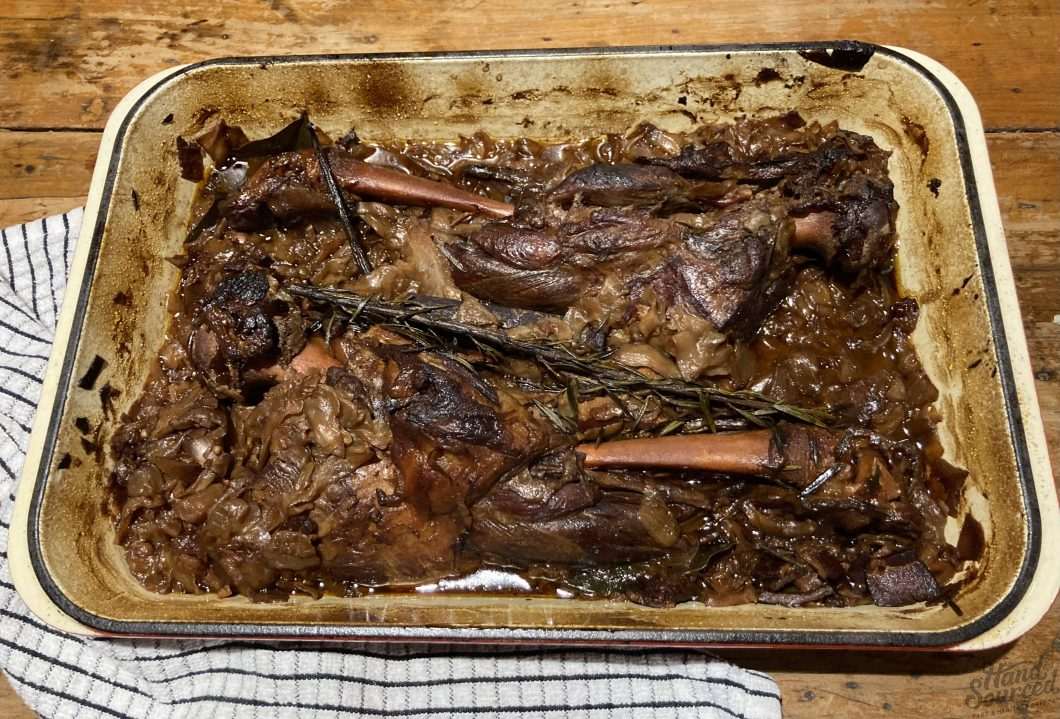 Ingredients
1 tablespoon butter
170 diced bacon
2 hind goat shanks
1 chopped onion
3 cups of shredded cabbage (about one small head chopped into long threads)
4 medium garlic cloves diced
1 tablespoon pink peppercorns
1 teaspoon fennel seeds
Half teaspoon ground allspice
240ml (1 cup) Port or Tokay
360ml chicken stock (about 1½ cups) made from Sommerlad heritage chicken bones.
2 tablespoons tomato paste
1 Rosemary sprig
1 long cinnamon stick
1 vanilla bean (do not split it in half all the flavour will become too strong)
1-2 Bayleaves
Half teaspoon salt
Half teaspoon freshly ground black pepper
Method
Pre-heat oven to 180°C. Using a large cast iron pot over medium heat, add the butter, pop in the bacon and frizzle until crisp. Transfer to a plate or cutting board, using a slotted spoon so the smoky fat stays behind
Add the shanks and brown and well on all sides until caremised. Transfer the shanks to the cutting board with the bacon, and add the onion, stirring until softened and translucent. Dump in the cabbage, let it stew for a few minutes until wilted. Stir in garlic, peppercorns, fennel seeds and allspice. Cook until just aromatic-  about 15 seconds or so, then pour in the port. Scrape up all the brown bits in the pot. Keep simmering until the amount has been reduced by half.
Pour in the chicken broth, add tomato paste, Rosemary, cinnamon stick, vanilla bean, Bayleafves and salt and black pepper.
Return the shanks, bacon, and any accumulated uses into the pot. (see note, below)
Bring the sauce to simmer, cover the pot and pop it into the oven. Leave it be until the shanks are meltingly tender, which will take about 2 1/half to 3 hours. 
Remove the cinnamon stick vanilla bean and Bayleaf before serving.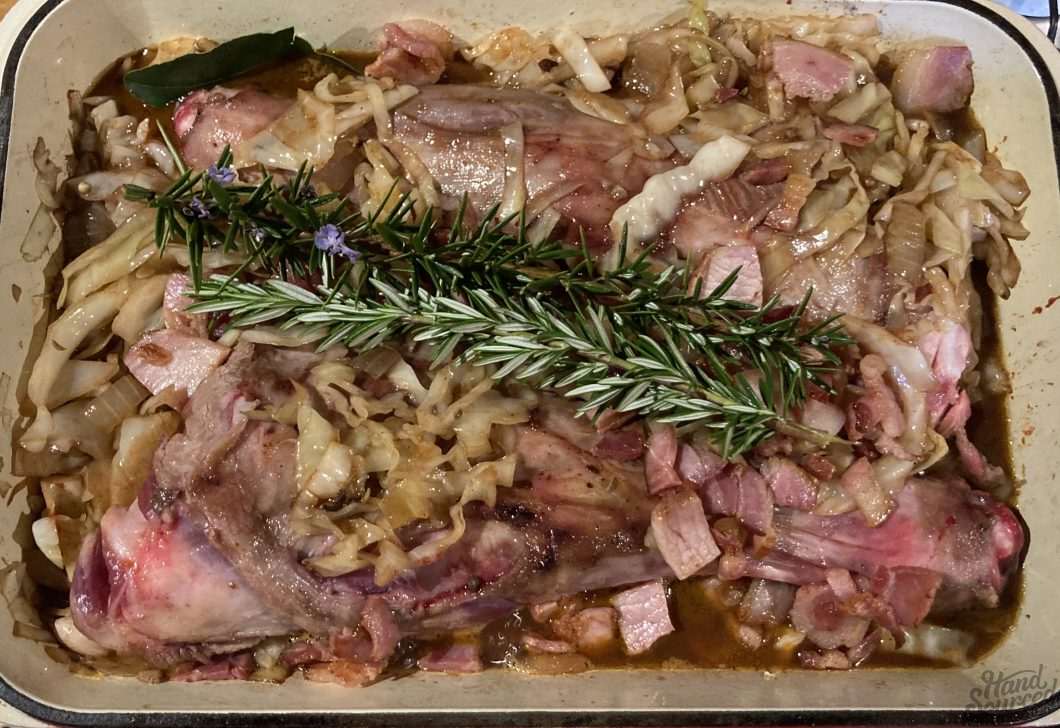 Here's a trick to tell if the shanks are ready:

Stick a meat fork into the shank and if it comes up out of the pot attached to the fork it's not ready. If the fork just slips out of the meat leaving the shank behind with no hesitation, it's perfect.

Note
The authors suggest the shanks will shrink as they cook and you will have room to play around when things heat up so don't worry if it's a little bit crowded in the final cooking pot. However, goat shanks are l-o-n-g, and my pot is not, so at this point, I transfer mine into the large baking dish shown below, and arranged them snuggly.
Cover with a few layers of alfoil, and all will be well.
This is adapted from Goat by Bruce Weinstein and Mark Scarborough