Drive just 12k north of Tenterfield NSW,  and you'll find Sunnyside Cutting. Cutting and station were once an important part of rural life, running from 1888 to 1973.  Sadly, all that remains of Sunnyside Cutting are picturesque glimpses of tracks, platforms, and a rather stunning century old ironbark hardwood bridge. You'll need to take a left, here, onto the dusty road.  Just a few  kilometers further stands the Sunnyside Community Hall, another relic of a former thriving town – and one that's faithfully being preserved by tenacious locals.  
It was here I first tasted this rather delightful dish – a simple country style pate made from Sommerlad livers and stock, farm fresh eggs and dairy cream.  Granted, there's a long list of ingredients. But it's a simple cook, and the results are mouth watering. You can easily skip the gelatin layer if it suits you – just smooth the top and slice ready for some crusty bread, ot smooth into a pot and brulee the top with some brown sugar.
Bonus: this pate does the unthinkable – it freezes really, really well.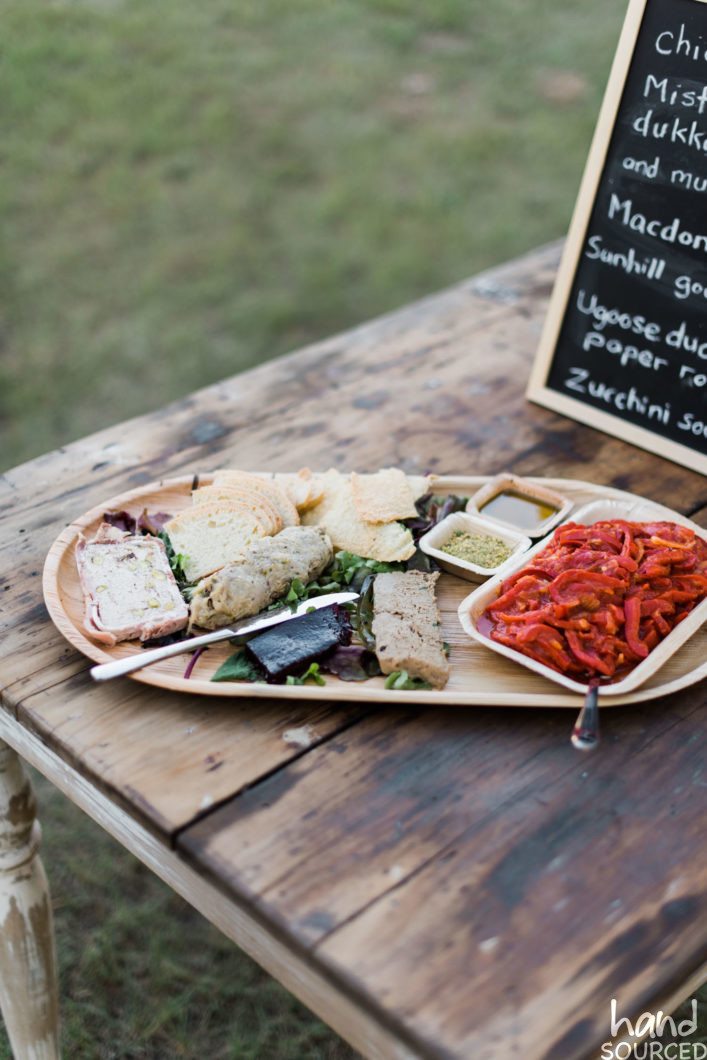 Sommerlad Heritage Chicken Pate
Kathy Shannon – The Sustainable Plate
Prep: 1.5-2hrs
Cooktime: 4-6hrs in the fridge
Serves: 6
Ingredients:
3/4 cup chicken stock (made from Sommerlad Chicken)
1.5 teaspoons gelatin
2 tablespoons cold water
chopped parsley
whole black peppercorns
1 kg Sommerlad chicken livers
1/3 cup brandy
90g butter
6 rashers bacon – chopped  
2 large onions – chopped
2 teaspoons fresh thyme
1 bay leaf
1/3 cup dry sherry
2/3 cup thickened cream
salt and pepper
150g extra butter
1 litre loaf tin
Grease your loaf tin well.  Sprinkle gelatin over cold water and mix well and then place this and the stock into a saucepan and bring it all to the boil.  Remove from the heat and allow to cool down until just warm. Pour just enough of the stock into your loaf tin to just cover the bottom. Refrigerate until set. Refrigerate remaining stock until almost set – still liquid – but cold and thicker. Sprinkle top of stock in loaf tin with peppercorns and parsley then carefully spoon over remaining stock and return to fridge to set. 
Chop chicken livers roughly, place in a bowl and pour over the brandy. Marinate for 1.5 hours then drain the livers. Melt 45g of butter in a pan and then add the livers and saute until browned on all sides. In a separate pan, melt the remaining 45g of butter and add the bacon and onions. Saute until the onions are transparent then add the thyme, bay leaf and the livers and simmer for a further 5 minutes. Remove from the heat and remove the bay leaf. 
Place the liver mixture into a blender with the sherry and blend until smooth. Melt the extra 150g butter then fold this butter and cream into the liver mixture. Season with salt and pepper.
Allow the mixture to cool then spoon gently over the set stock and press down as you are filling, to ensure there are no air bubbles. Smooth the top and cover with cling wrap and refrigerate for 4-6 hours. You may need to run a sharp knife around the edges before turning out onto a board.
Buy your Grassland Sommerlad Heritage Chicken Livers here
Recipe  courtesy of Kathy Shannon, The Sustainable Plate; High Table images by Hannah Puechmarin