Early 2016 I swore I'd never eat another conventionally farmed chicken again. Up until that date, I'd been lenient.  Sure, I knew that genuine, slow grown chicken tasted better. I was also aware that conventional chicken breeds were as close to natural as my plastic spatula; grew faster than my hair and had less nutritional benefit than both.  Truth be told, I'd probably have been better off eating the jolly spatula. Or my hair.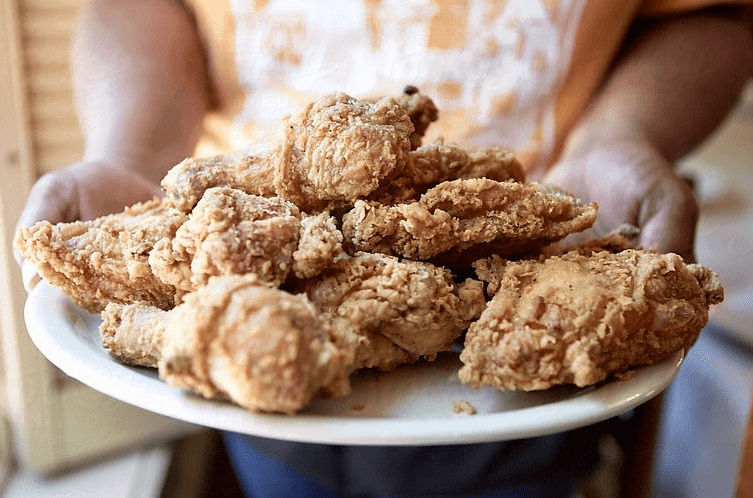 But, I'll be honest: at the end of a long week, convenience and price still drove my Friday-night-wings-in-front-of-Netflix-with-my-family choice; and on the rare occasion of a Sunday drive – well, nothing beats a true country pub parmie. 
However, come January 2016, I realised two things. One – I really didn't enjoy the taste (or, should I say, the non-taste) of white broiler meat any more. And two: every time I ate anything made from any organic, RSPCA or free range chook,  I would be supporting the very (nasty) industry that supported the never ending pursuit of faster and cheaper chicken meat.
I might not be able to change the industry, but I could change what I eat. 
Bar the occasional restaurant slip up, I have pretty much stuck to my guns and a whole roast chook has become a monthly treat, enjoyed by the family. 
One of the things I missed, though, was chicken pieces. In recent times, I've found myself trotting out the ancient butcher  boning knife I inherited from my grandfather, and had a rather good stab at hacking up a chicken without cutting off any of my vital parts.
So far so good.
Anyhow, taking the plunge and boning out a Sommerlad is totally worth the effort for this one.  Whilst it not be the most 'healthy' chicken recipe by modern day standards, it is reminiscent of the good, old fashioned Southern Fried chicken of old. It also makes a rather passable parmie – and I am OK with that. 
The Sommerlad breeding program thrives without the use of any agricultural chemicals, synthetic fertilizers, pesticides or herbicides. Unlike commercially grown birds, no antibiotics are administered. Sommerlad birds roam far and freely from their portable shelters, and are grown in small groups of up to 250 birds.
Prep: 24 hrs
Cooktime: 25/30mins
Serves: 4
2 cups (500ml) buttermilk
sea salt and cracked black pepper
1 1/2 cups (225g) plain flour
vegetable oil, for deep-frying
2 tablespoons sweet paprika
2 tablespoons dried mixed herbs
1 tablespooon brown sugar
2 teaspoons chilli flakes
1 teaspoon celery salt
Instructions:
To make the spiced salt:
 Place paprika, mixed herbs, sugar, onion salt, chilli powder, garlic powder and celery salt in a bowl and mix well to combine.
Place chicken, buttermilk, chives, salt and pepper in long flat dish and give the chicken a jolly good roll in the mix. Cover and refrigerate overnight, if possible.

Preheat oven to 170c and ensure you have 2 racks in place that will allow you directly transfer the chicken onto the rack. You want air flow on all surfaces.
Heat oil in a large, deep saucepan over medium heat until hot.
Mix 1/2 of the spiced salt into the flour. 
Remove chicken from the milk and allow to drain.
Toss each piece in spiced flour and shake off any excess. 
Cook chicken several pieces at a time for 2-3 minutes until the outside is crisp and golden.
Transfer each batch to a wire rack, place on a baking tray and bake for 15-20 mins for small, boneless 'nugget' size pieces; or 20-25 for larger bone in pieces.  
Drain on absorbent paper and sprinkle with the reserve spicy salt.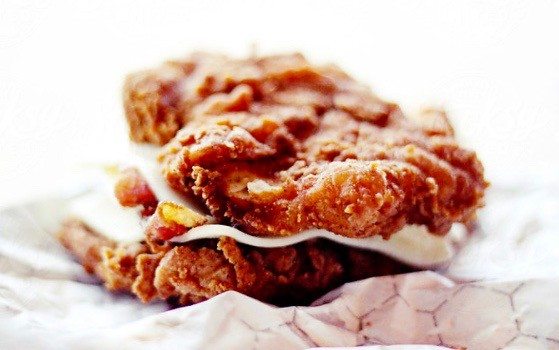 Adapted from DONNA HAY 'Simply no Time to Cook'.