Got Milk? Actually, yes – or go buttermilk and get a tartness to this that zings. An unusual sounding recipe for outstanding results.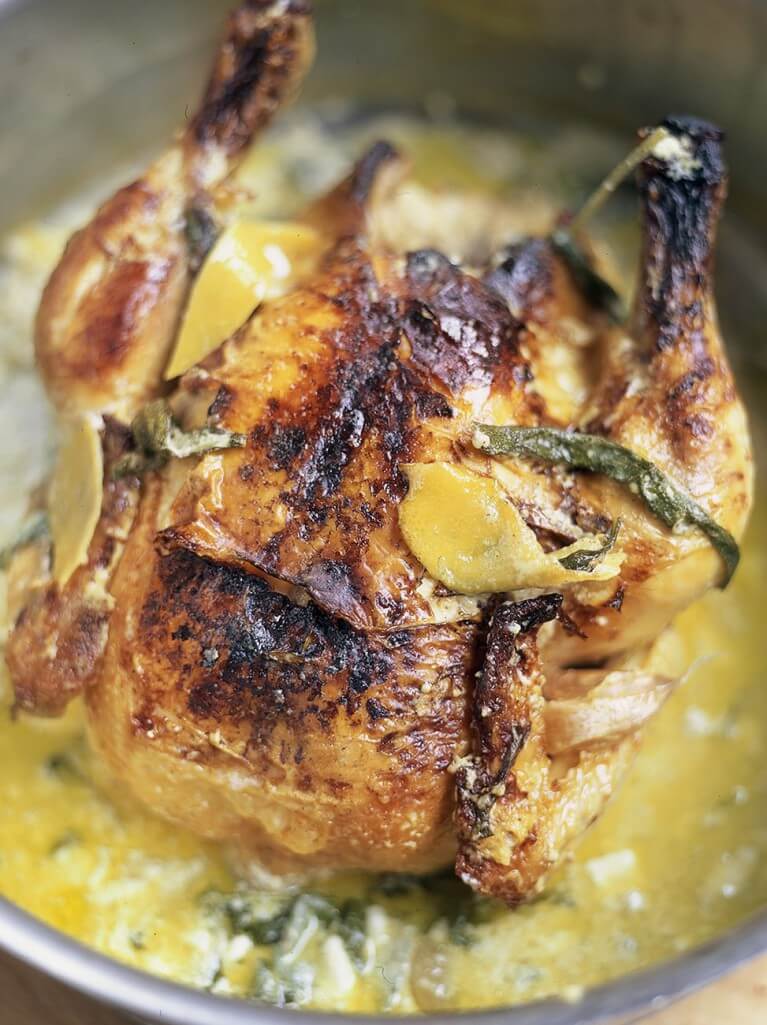 Jamie Oliver, King of cheffing naked, is well known for his stand on ethical produce and loyalty to farmers.  So it is one of his recipes, albeit tweaked a little, that I have chosen to showcase the braising ability of this little bird, in a dish that allows the main ingredient to shine and at the same time to complement with appropriate textures and tastes.
I have to warn you – the ingredient list itself may seem a little odd, but I can guarantee you a dish of exemplary taste.
It's incredibly easy cooking, produces a superbly tender bird topped with crisp, umami skin and a garlicky, zesty sauce so moreish you'll want to plant yourself face first and lick the pot. In fact, I dare you not to.
All Hand Sourced Sommerlad chickens come direct from Grassland Poultry and carry PROOF certification. No hormones, growth promotants, chemical intervention, no synthetics or lot feeding.  Just 100% natural chicken, the way it used to be.
Allow yourself 2 hours, a G&T and a magazine – this is super easy and yields very impressive results.

---
Sommerlad Heritage Chicken Cooked in Milk
Prep: 30mins
Cooktime: 1.5 hrs
Serves: 4-6
Ingredients
1.5 – 1.8 Sommerlad Heritage chicken
sea salt
freshly ground black pepper
olive oil or butter
½ cinnamon stick
1 good handful fresh sage leaves
2 lemons, zested then halved
2 bulbs of garlic, unbroken and skin intact, sliced on the horizontal
600 ml milk or buttermilk
Instructions
Preheat the oven to 170c.
Heat a little chicken schmaltz (I make my own from Sommerlad chicken skin, but olive oil or butter will work just as well) in a high-sided cast iron pot and gently sear the chicken surface, turning regularly until richly golden all over. Remove from the heat, and set the chicken aside.
Add garlic, zest and sage, and allow to fry off for a few minutes, to release the oils and flavours. The tasty sticky goodness on the bottom of the pan is going to provide the base for a lovely caramel flavour later on.
Return chicken to the pot, add remaining ingredients, and roast for around 90 minutes, basting as you remember. The lemon zest will 'split' the milk, and it will look a little odd, but this what you want – it's the sauce and it's absolutely fantastic.
To serve, remove the lemon halves and leave everything else in the pot; and allow guests to pull the meat off the bones and spoon over plenty of juice and the little curds. add bowls of wilted spinach leaves and creamy, buttery mash, or a simple green salad and some creamy polenta, and wads of torn crusty bread.

Buy your Sommerlad Heritage Chicken here
Recipe adapted from Jamie Oliver
Image courtesy of Jamie Oliver, used with permission.
Save