With the unique combination of sweet and sour from quality meat and dried fruit, this take on an Ottolenghi dish (originally published using quail) is typical of the Sephardi tradition of cooking. It is pretty special and can be placed in the middle of a festive table with great pride. It's a visual treat, and one you'll want to tuck away in your stash for an easy entertainer (or prepare one in secret, and hide away by yourself with a big spoon and your favourite stretchy pants).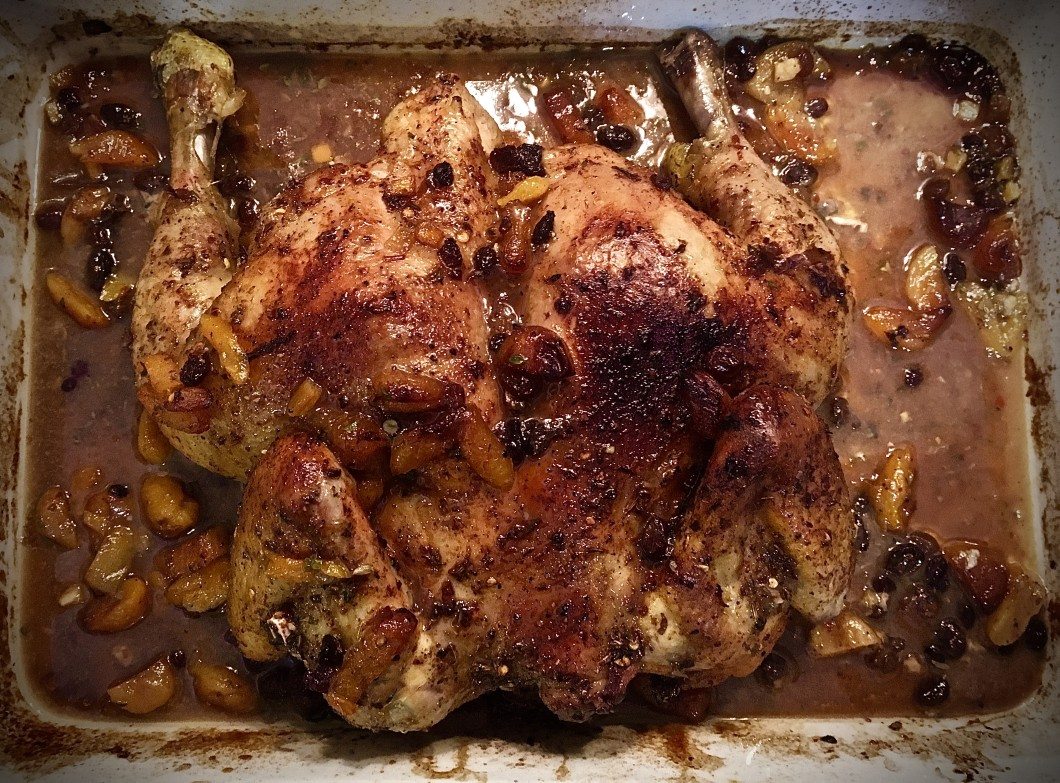 If you've tried a Sommerlad chicken, you know you really have to do very little, if anything, to make these birds sing.   Sommerlad table birds are the highest welfare birds available to Aussie kitchens, and this dish highlights the simplicity of using a solid, Aussie raised product with Middle Eastern influences. It's a guaranteed winner.
Braised Sommerlad Chicken with Apricots, Raisins and Tamarind
Prep: 24hrs (marinating time) + 20mins
Cooktime: 30mins
Serves: 4
Ingredients:
1 x 1.8-2kg (or 2 x 1.3kg) Sommerlad chicken, butterflied
¾ tsp dried chilli flakes
¾ tsp ground cumin
½ tsp fennel seeds, lightly crushed
1 tbsp olive oil
75ml white wine
80g dried apricots, thickly sliced
25g currants
1½ tbsp tamarind paste
juice of half a large juicy lemon (about 3 tbs)
1 tsp picked thyme leaves
salt and black pepper
Instructions:
Take a small sauté pan and place it on medium heat. Add fennel, chili, and cumin and toast for a few minutes, tossing frequently. Remove from heat and season.
Massage the spice mixture into the birds well, giving them a good, thorough rubbing. (They deserve it – they are going to treat you so well afterwards).  Cover and chill in the fridge for a few hours – overnight if you can manage it.
Allow the chicken to come to room temp, while you place the apricots, raisins, tamarind, lemon juice, thyme and wine into a bowl, and stir to combine and allow the fruit to swell a little.
Find a deep sided baking dish and pour the fruity mix into the base. Snuggle the bird/s in, skin side up.  Drizzle with olive oil, add a little honey if you want extra sweetness ( I don't)  and top up with water so that the chicken/s are submerged about halfway in liquid.  Cover and allow to simmer for about 20 minutes, then remove foil and allow to cook for a further 10, basting occasionally if you are are keen (or don't, I am a lazy cook and always forget, mine comes out just fine, thank you very much) until the meat is cooked through. If the pan is drying out, add more water.
Remove the chicken, cover with foil and allow to rest.
Turn up the heat and reduce any remaining sauce until it thickens to your desired consistency. Arrange on serving platter, (or again, lazily, leave it in all its rustic glory in the baking dish), give it a squeeze of lemon and garnish with parsley and coriander if you are feeling fancy.
Tuck in!
Save