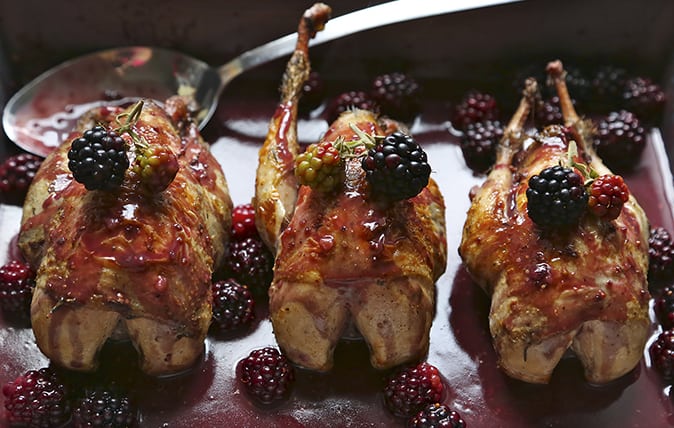 Blackberries have a natural affinity with apple and all game birds, particularly partridge. This recipe will give you a delightful way to serve your Heritage Hill partridges in a very impressive dinner party kind of way. 
Ingredients
4 shallots, halved
4 Hand Sourced Heritage Hill partridge
A splash of olive oil and a knob of butter for frying
2 sprigs rosemary
4 sprigs thyme
900g potatoes, peeled and cut into even-sized pieces
400g kale, chopped
75g butter
200ml milk
2 spring onions, finely sliced
1 tbsp plain flour
200ml red wine
15g wholegrain mustard
30g redcurrant jelly or quince paste
300ml hot sommerlad chicken stock
250g blackberries
Method
Preheat the oven to 200°c. Place the shallots into the cavities of the partridge and liberally season the birds all over. Heat the olive oil and butter in a large frying pan and cook the partridge on all sides until golden brown. Place them in a roasting tin and scatter with rosemary and thyme. Roast the birds in the oven for about 20 minutes or until cooked through and the juices run clear when a skewer is inserted into the leg.
Put the potatoes into a saucepan of salted water, bring to the boil and cook until tender. Meanwhile, place the chopped kale into a saucepan with a little boiling water and cook until soft. Strain the potatoes, remove from the heat and add the butter and milk. Mash with a potato masher and then stir through the cooked kale, spring onions and seasoning. This can be covered with foil and kept warm in a low oven until ready to serve.
When the partridge are cooked, remove them from the oven and put them on a separate board to rest, covered with foil. Place the roasting tin over medium heat on the stove and sprinkle the flour over the pan juices, using a metal whisk to mix it in, scraping the bottom of the roasting tin as you do so, for about 2 minutes. Pour the red wine over it and continue mixing. At this point, you should have a good rolling simmer so that the wine reduces and the alcohol burns off. Add the mustard and redcurrant jelly, again mixing in well for a further few minutes, and then pour in the hot chicken stock. Add the blackberries, breaking half of them up with the whisk, but leaving the others whole. Continue on a rolling simmer until the sauce has reduced by half to a gravy consistency, then season to taste.
Serve the partridge drizzled with blackberry sauce, with the colcannon on the side.
Heritage Hill Partridge are available here. 
Recipe from Country Life Magazine 2013.