Venison, the culinary name for deer meat, is commercially available both wild and farmed. Not native to Australia, as is often thought, deer were introduced by settlers in the 19th century.
Venison is extremely lean and naturally tender. It is one of the most nutritious of all red meats, with less than 2 per cent fat. There is little or no marbling. Venison is high in B6, B12, potassium, phosphorus, riboflavin, niacin, and zinc and lower in saturated fat than domestic red meats.
"Wild deer is a superior product and contain no chemicals or introduced hormones, unlike farmed.

Farmed venison lead less active lives than wild deer, which makes farmed deer less lean and less flavourful.

Wild shot venison is naturally grown, naturally grazing and free to roam free range on select clean pastureland.
Why wild over farmed?
The venison in our catalogue is wild shot. We supply two breeds: Fallow; and Chital. We choose wild over a farmed product for a number of reasons. Deer are ruminants, and as such, a life of natural grazing on wild on pasture allows them to grow at their own rate and in their own time.
Wild venison is higher in polyunsaturated fats, with a highly favourable saturated to polyunsaturated (P:S) ratio and omega n-3 to omega n-6 ratios. This is largely because wild deer feed on grass and vegetation rather than high-energy cereals found on deer farms.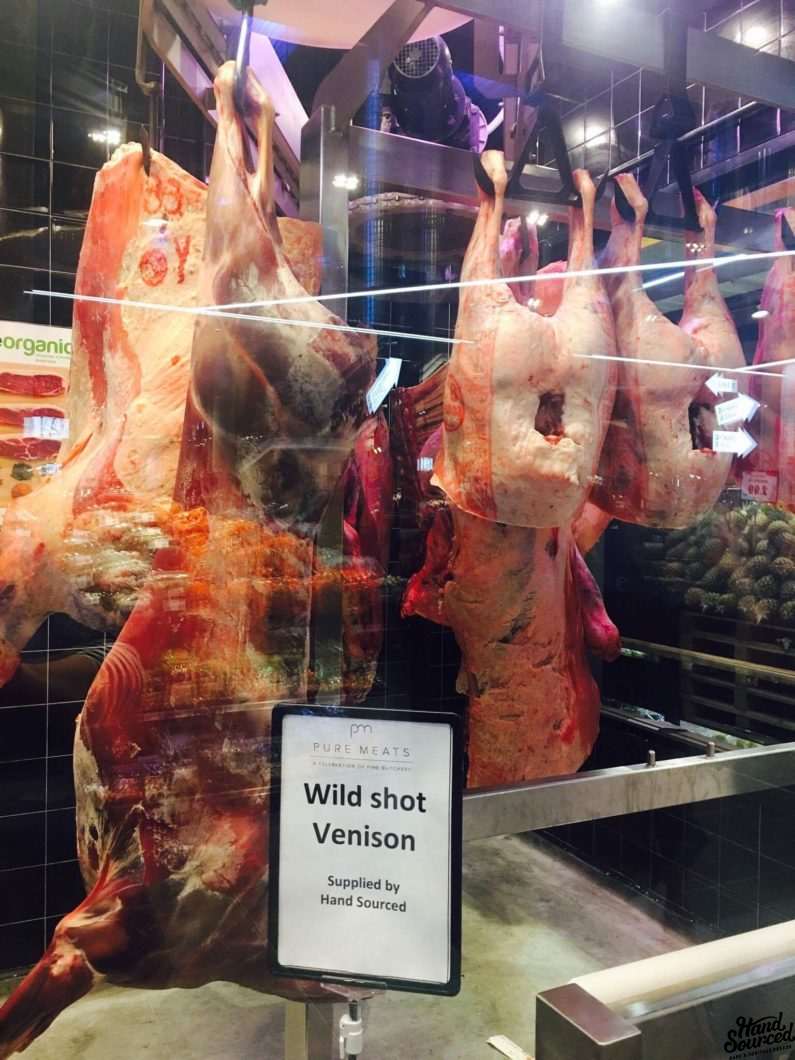 Wild shot venison is naturally grown, naturally grazing and free to roam free range on select clean pastureland of the Ballandean shire.
Season: During the rutting season, males will roar in the early morning and evening. The rut is from late March through April with most conceptions occurring early to mid-April. Gestation period runs on average 234 days, with birthing late November and December, peak early December.
Deer are sociable animals and form single sex groups outside of the rut period. Feeding occurs early morning and late evening. Deer sleep in between.
Night shooting whilst animals are at rest eliminates stress, unlike farmed venison waiting in slaughter queues. Shot by qualified hunters, harvest and skinning general occurs each Tuesday night. Bodies are immediately transported to mobile coolrooms, and hung for 7 days (food service) before processing by a specialised wild game butcher.
Our producers offer an ethical solution to state government-culling programs, which can rely on aerial culls or synthetic baiting and poisoning. These methods leave carcasses to rot, attract wild pigs, dogs, and prey birds, which contribute to the spread of disease, worm and parasites. Wild shot venison from clean paddocks mean a clean, pure meat for the table and leave chemical free, non-pesticide treated paddocks for continued grazing and farming practices.
Here's your chance to put wild caught venison on your table at a very reasonable cost.
Availability: Fresh meat is available and shot to order most of the year, with the exception of breeding season (rutting). Deer meat is available frozen during shortfall.
Your deer will be aged 12-14 months. The carcass dressed weight is 12-60kg, which gives a butchered, ready to plate weight of 8-48kgs. We can take orders for spikers, which are a little older at around 2 years, male, and are gamier, stronger in flavour, firmer in texture. Antlers are grown and cast annually by males from their second year of life. Deer are 'in velvet' from September through January, when antler growth (soft, like velvet) grows and hardens.
You may request 'spikes' (antlers), but these are not guaranteed. Costs apply and are sold at the hunters discretion.
Venison is shot to order, which means whole carcasses are given priority – a true 'land to plate' experience. Selected cuts can be requested, but are always subject to availability.
Ordering
You can order whole carcass to break down yourself, or have it broken down (see below, as a general guide only). You can request additional select cuts and additional offal: availability will depend of the amount of full carcasses hunted in each period. You can request a whole carcass, trimmed of bone, and elect to receive all bones if desired. 14 days lead time is preferable.
Delivery to Hand Sourced is generally on a Friday but this may vary at the hunter's discretion. We ship out on Monday each week, or the business day after delivery.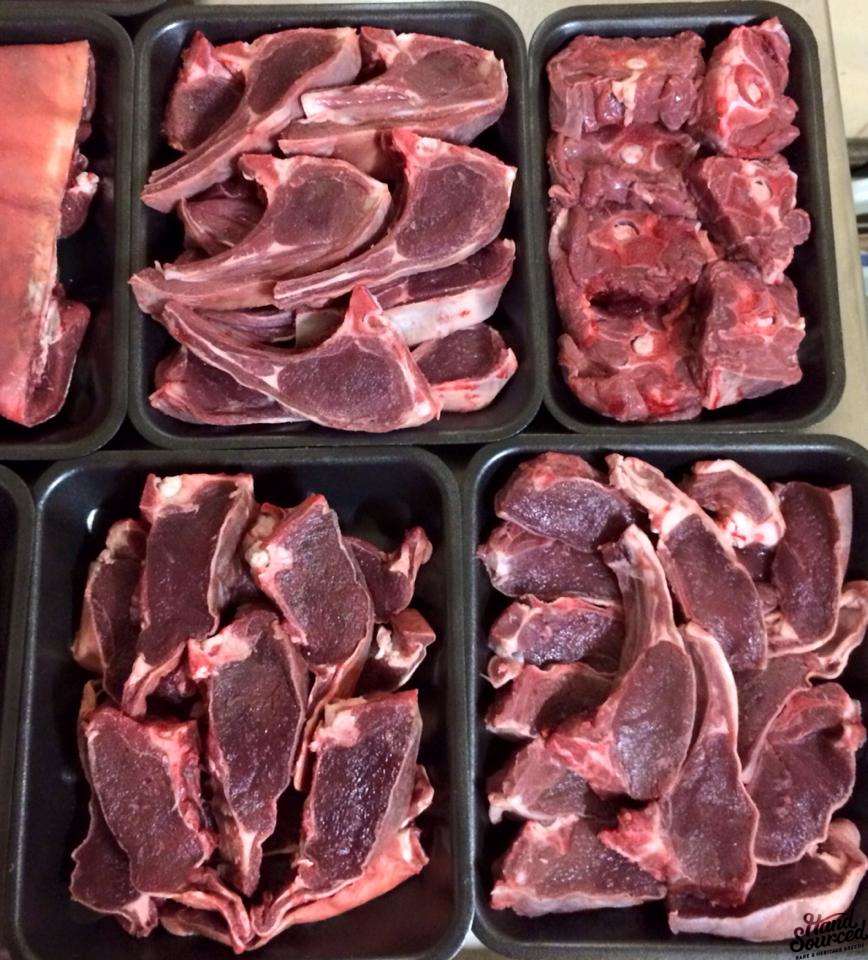 Example cuts in a butchered carcass:
Saddle (back) – breaks into 6 point rack, tenderloin, fillet (backstrap) OR loin chops and/or TBones.
Haunch (back leg) – bone-in joints if young, boned and rolled, diced, or sliced into steaks. Leave whole or halved for leg roast. Older venison is best seam butchered to remove sinew, which can be tougher than on domestic meat.
Shoulder – commonly diced for stews or casseroles; boned and rolled for braising. Shoulder joints from young deer are also suited to roasting. Old venison shoulder is best minced or braised.
Neck – from young deer, diced neck makes a good stew, great for stock.
Shank – cut into neat shanks or sliced into osso buco.
Flank – from young deer, flank can be stuffed and rolled.
Rib/Breast/Brisket/Spare Ribs – braising, mincing, slow cooked for bar snacks.
Storing venison
Vacuum-packed venison should be left in its wrapping until ready for cooking. It will keep for up to two weeks in the coldest part of a cold room. When you open the package, you will need to mop up any blood sitting on the surface of the meat. Any odour should disappear after a few minutes. Because it is lean with minimal fat and connective tissue, venison is more perishable than other red meats. Large cuts of venison will keep for up to three days. Smaller cuts should be used within three days. Cubed or minced venison should be used within one or two days.
Things that love venison
Allspice berries, anchovies, bacon, bay leaves, beetroot, chestnuts, garlic, juniper berries, lentils, mustard, olive oil, onions, pancetta, paprika, pepper, port, red wine, redcurrant jelly, rosemary, salt, sour cherries, thyme.
You can order your venison here.